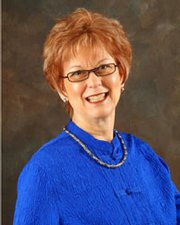 Kansas University has tapped a longtime music faculty member to serve as interim dean of its new School of Music.
Alicia Ann Clair, a Kansas University professor of music education and music therapy, will assume the position effective July 1 during a time of transition for KU's fine arts programs. Plans call for a national search for a permanent dean to launch in the fall.
"Alicia Clair has the vision and administrative skills to work with all music faculty in forming our new school," Provost Richard Lariviere said in a news release.
University spokeswoman Lynn Bretz said the search for the interim dean was focused internally, and attracted interest from several candidates.
The School of Music emerged from a reorganization of KU fine arts programs. The reorganization also forms a School of the Arts within the College of Liberal Arts and Sciences, and moves the design department to the School of Architecture and Urban Planning.
"I am honored to serve the university and its extraordinary music faculty during our transition as a full-fledged school," Clair said.
At KU, Clair has held many administrative posts, including interim associate dean of fine arts, and associate dean for the College of Liberal Arts and Sciences and for the School of Education.
Copyright 2018 The Lawrence Journal-World. All rights reserved. This material may not be published, broadcast, rewritten or redistributed. We strive to uphold our values for every story published.