On the street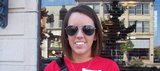 There were roundabouts where I grew up, so I was already used to them. But I've noticed people here are still a little unsure about using them. I understand their frustration, but it's kind of amusing to watch.
-->
Roundabouts are rolling into Lawrence with increasing regularity, adding to a roster of circular traffic patterns designed to improve vehicle flow, boost safety conditions and cut maintenance costs.
But many drivers still tend to detest them.
Chuck Soules has a theory about the opposition: It's all about control.
"You can drive through a traffic signal. You can drive through a stop sign. If you want to drive 75 (mph) on the highway, you can still do that," said Soules, director of public works for the city of Lawrence. "If you want to take that risk, you can do it. But a roundabout is a physical impediment. You can't drive straight through a roundabout, and you can't go faster than we designed that roundabout for.
"It's different with a roundabout, because we are controlling the intersection at that point."
With both the city and the Kansas Turnpike Authority moving ahead with such projects, the driving public soon will be steered into even more controlling situations.
That means drivers will get even more opportunities to learn how to navigate the passive features that are cheered by some, tolerated by others and lambasted by opponents who regard them as little more than confusing, expensive substitutes for good old-fashioned stop signs or traffic signals.
'Stupid' approach
"It's just stupid," said Marilyn Bittenbender, especially frustrated by a little-used "roundabout, about the size of a kiddie pool" at Legends and Research Parks drives in western Lawrence. "I just think that Lawrence so often makes the mistake of trying to apply solutions that are very applicable in big cities to a community of 100,000 people, and they're not as applicable here.
"I'm not a fan."
While Soules understands such criticism - "In a town of this size," he said, "you're not going to have 100 percent agreement" - he sees such condemnation as misdirected.
Many people complaining about roundabouts, Soules said, actually are frustrated by the devices' smaller offspring: traffic circles. Such circles often are dropped into the middle of an existing intersection - such as several along Harvard Road west of Monterey Way - simply to slow down traffic.
No other changes are made, and the circles on Harvard indeed are intended to frustrate drivers, Soules said: Not necessarily the people living in the neighborhood, but those who otherwise would speed through the residential area while avoiding perceived traffic congestion and signals on Sixth Street.
"The traffic circles, it's a lot harder to get around those," Soules said. "The turns are tighter. The speeds are lower, and that's on purpose."
Safety, efficiency sought
Roundabouts are different, he said, because their specific designs - with splitter islands to protect pedestrians, single lanes to handle traffic, raised "aprons" to accommodate large trucks and landscaped interior islands to attract attention - are successful in accomplishing several goals:
¢ Improve safety. While a four-way intersection typically has 32 "points of conflict" - places where vehicles could run into one another - roundabouts have only eight. And the conflict points they do have are less dangerous, because drivers being directed into the roundabout enter at an angle, rendering any collision less severe and, therefore, less likely to cause major injury or property damage.
The intersection of 19th Street and Barker Avenue had two or three injury accidents a year before a roundabout was installed, said David Woosley, the city's traffic engineer. "We don't have that history anymore," he said.
¢ Boost efficiency. While people argue that traffic signals allow traffic to move through intersections at regular speeds - compared with, say, 15 mph through a roundabout - the same people tend to forget that while they've been moving through, other vehicles have been forced to stop.
Inside a functioning roundabout, nobody stops. And from the outside, traffic slows to enter and stops only if necessary to yield to a vehicle already inside the roundabout. "Yield to vehicles on the left, but continue as normal for vehicles to the right," Soules said.
¢ Save money. Building a roundabout is cheaper than installing a traffic signal. Excluding the price of the pavement itself - all intersections need pavement, regardless of design - the only expenses triggered by a roundabout are for a stone wall around the inner circle, and the landscaping inside. That's about $50,000, Soules figures, compared with about $200,000 for traffic signals. And that's not including the price of electricity, maintenance and other expenses that pile up each year for signals.
Woosley adds that keeping vehicles moving through intersections also pays off for the environment, through spin-off benefits that don't show up in an engineering analysis.
"If you aren't stopping all the vehicles, they're using less fuel," Woosley said. "There are less emissions. There are less emissions from brakes and tires - all that stuff."
What's in a name?
Tom Vanderbilt, author of "Traffic: Why We Drive the Way We Do (and What It Says About Us)," figures that drivers become more comfortable with roundabouts with increased familiarity: The more they see, and the more often they use them, the more likely they are to be more accepting.
The facts are pretty clear, he said. From his book:
¢ A properly designed roundabout can reduce delays by up to 65 percent over an intersection with traffic signals or stop signs. "Drivers do have to slow down as they approach a roundabout" he writes, "but under typical traffic conditions they rarely have to stop."
¢ About half of all accidents in the United States occur at intersections. And a study of 24 intersections converted from signals and stop signs to roundabouts determined that total crashes dropped nearly 40 percent, while injury crashes declined 76 percent and fatality accidents fell by about 90 percent. "There is a paradox here," Vanderbilt writes. "The system that many of us would feel is more dangerous is actually safer, while the system we think is safer is actually more dangerous."
In an interview, Vanderbilt noted that roundabouts had been around for ages, particularly in Europe, where he encountered his first while traveling in Italy.
"I just wrapped it up with what I thought was crazy nature of Italian driving," Vanderbilt said.
While Vanderbilt quickly learned the reasons behind the devices, and soon understood how they succeed in meeting their stated goals, he knows that such enlightenment hasn't dawned on everyone. He knows there are people out there frustrated at the very mention of the device and its variations throughout the United States - from the early days of confusion to the current times of proliferation and the almost steadfast resolve not to accept a roundabout's existence, no matter how well it might function.
Perhaps the roundabout needs an agent.
"It almost needs to be branded," Vanderbilt said, with a chuckle. "It may need a different name."
With more such projects slated for Lawrence in the coming years, there should be plenty of time to come up with alternatives.
Copyright 2018 The Lawrence Journal-World. All rights reserved. This material may not be published, broadcast, rewritten or redistributed. We strive to uphold our values for every story published.