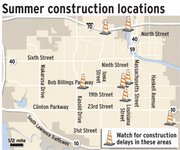 For anyone who sees the road construction projects across town and thinks there's no way all the work can get done before school starts next month, Chuck Soules has two words for you.
Trust us.
"Give us a chance," said Soules, city public works director. "It'll get done. It always does."
Summertime is the traditional season for major roadwork in Lawrence, when the crunch on city streets conceivably eases as Kansas University students depart and families go on vacations.
Soules notes that some minor projects may not even begin until after the start of school, and that's by design. Contractors need time to get the most pressing jobs - the area of 19th and Louisiana streets, for example - out of the way before major traffic pressures return with Lawrence public schools classes beginning Aug. 13 and Kansas University classes starting Aug. 21, he said.
With that in mind, here's an update on some repair, repaving and reconstruction projects still going, and still to come, from officials associated with the work:
¢ Kansas Turnpike: Half of the West Lawrence Interchange - for traffic on McDonald Drive wanting to turn onto the turnpike and go to Topeka, and for traffic coming from Kansas City and wanting to turn onto McDonald Drive into Lawrence - is closed. That will continue for another five months. Repaving started Tuesday on five miles of lanes for westbound traffic, from a mile east of the East Lawrence Interchange to two miles west of the West Lawrence Interchange. That work should be finished by the end of today.
¢ Kansas University: Jayhawk Boulevard, from Mississippi Street to Lilac Lane, is scheduled to reopen by Aug. 11. Mississippi, from Memorial Drive to Jayhawk Boulevard - a stretch considered a major entrance to the main campus - also is set to reopen by Aug. 11. The sections have been closed to permit work upgrading KU's underground steam tunnels.
¢ City of Lawrence: Repairing concrete on Bob Billings Parkway, from Lawrence Avenue to Apple Lane, should be done by the middle of next week. Rebuilding on Ohio Street is moving from the 700 block to the 600 block, with another two or three months of work remaining. Installing a roundabout at the intersection of 25th Street and O'Connell Road, in southeastern Lawrence, will start in two or three weeks, and a special temporary turn will be installed to allow traffic to turn west into the neighborhood and north out of the neighborhood.
Other repaving work also has yet to be lined up, but will be expected to come during September and October. Stretches expected to be repaved include Rockledge Road, from Sixth Street to McDonald Drive; Trail Road, from Monterey Way to Folks Road; Eighth/Ninth Street, from Lawrence Avenue to Kasold Drive; and East 24th Street, from Harper Street to just west of Ponderosa Drive.
So the cones, signs and equipment will indeed be out on the roads, even after the bell rings for class.
"We always are having projects that linger on into after school (starts)," Soules said, "but they're in more residential areas."
Copyright 2018 The Lawrence Journal-World. All rights reserved. This material may not be published, broadcast, rewritten or redistributed. We strive to uphold our values for every story published.