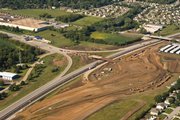 Lawrence is about to get a new roundabout, and a second is on the way.
And they're big ones.
The first is a one-lane circle measuring 120 feet across that is being built as part of the Kansas Turnpike Authority's $113 million project to overhaul two interchanges in town and replace the turnpike's two Kansas River bridges.
The circular traffic path is taking shape on the north side of the turnpike at the West Lawrence interchange - that's exit 202, at the end of McDonald Drive and north of the Lawrence Holidome and the Hallmark Cards Inc. production plant.
The roundabout will handle traffic leaving Lawrence to head west toward Topeka, and for vehicles coming into Lawrence from the Kansas City area.
The goal: Provide a smooth transition for drivers already slowing down as they exit the turnpike, and for those speeding up to get onto Interstate 70.
The looping ramps already are gone, their tight turns being replaced with gentle ascents and descents designed to minimize the potential for accidents - especially severe ones - and encourage an orderly flow of traffic using a minimal amount of property.
"Roundabouts have been looked at as a way to move traffic without stopping it," said Rachel Bell, a Kansas Turnpike Authority spokeswoman. "They aid in the continuous movement of traffic."
The new traffic pattern will be quite a switch for those who will use it:
¢ 2,600 vehicles per day exiting the turnpike from the east, coming into Lawrence - a total expected to reach 4,300 by the year 2030.
¢ 2,100 vehicles per day leaving Lawrence and heading west toward Topeka. The total is estimated to hit 3,500 by 2030.
Such drivers have been forced since June to find alternate means of travel, either by opting for another turnpike interchange or selecting another route entirely, such as Kansas Highway 10 into Kansas City or U.S. Highway 40 into Topeka.
The roundabout and other improvements at exit 202 are scheduled for completion sometime between Thanksgiving and Christmas.
"They'll be excited with the new interchange," said Rex Fleming, project engineer. "They won't have to alter the travel anymore. And when they get into this roundabout, they'll see that it works well."
Then another project will begin, with plans for yet another roundabout.
The turnpike's East Lawrence interchange - exit 204, which runs into and from North Lawrence - will be next in line for upgrades, including a roundabout for ramps on the north side of the turnpike.
Once again, traffic coming into Lawrence from the Kansas City side will need to find a different way into Lawrence, likely by driving two more miles to the new West Lawrence interchange, home of the new roundabout. That's 1,300 vehicles per day at current levels, a total projected to rise to 1,900 by 2030.
Likewise, people headed out of town toward Topeka won't be able to get on the turnpike off North Third Street. That will affect the 1,300 cars that use the ramp now, a total expected to go to 2,100 by 2030.
But don't go planning alternative routes just yet.
"It'll be awhile," Fleming said.
That's because work on the East Lawrence interchange won't start until a new bridge crossing the Kansas River is complete and ready to handle traffic, Fleming said. That project is ongoing.
He expects the two ramps at exit 204 to close sometime in 2010.
Copyright 2018 The Lawrence Journal-World. All rights reserved. This material may not be published, broadcast, rewritten or redistributed. We strive to uphold our values for every story published.