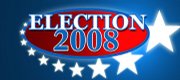 In-depth coverage of the candidates and the issues, all leading up to the Aug. 5 primary and the Nov. 4 general election.
Candidates for federal, state and county positions will take questions at forums starting next week.
The events are sponsored by the nonpartisan Voter Education Coalition and are free and open to the public.
On Tuesday, candidates for two state Senate seats will participate in a forum at Lawrence High School, 1901 La.
In the District 2 race, state Sen. Marci Francisco, D-Lawrence, and Republican Scott Morgan will answer questions starting at 7 p.m. The forum for candidates in District 3, between state Sen. Roger Pine, a Republican, and state Rep. Tom Holland, a Democrat, will start at 8 p.m.
On Thursday, the Douglas County Commission races will be featured at the Douglas County Fairgrounds, 21st and Harper streets, in Building 21.
In the District 3 race, Republican Jim Flory and Democrat Ken Groteweil will start at 7 p.m., followed by the District 2 candidates at 8 p.m., Republican David Brown and Democrat Nancy Thellman.
On Oct. 6, the 2nd Congressional District candidates - Democrat U.S. Rep. Nancy Boyda and Republican Lynn Jenkins - will take questions starting at 7 p.m. at the Dole Institute of Politics on Kansas University's West Campus.
On Oct. 20, forums for two Kansas House seats and a seat on the State Board of Education are scheduled at Free State High School auditorium, 4700 Overland Drive.
At 7 p.m., candidates for House District 10 - Democrat Tony Brown and Republican John Coen - will appear on the same panel with the two candidates for House District 45 - Republican Tom Sloan and Democrat John Wilson.
Then at 8 p.m., District 4 State Board of Education candidates Democrat Carolyn Campbell and Republican Robert Meissner will be featured.
Copyright 2018 The Lawrence Journal-World. All rights reserved. This material may not be published, broadcast, rewritten or redistributed. We strive to uphold our values for every story published.