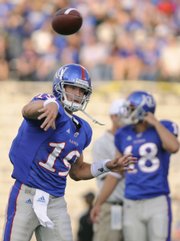 To hear his high school coach tell it, Kale Pick, red-shirt quarterback for the Kansas University football team, arrived on campus last spring with the goal of becoming the team's starting quarterback.
As in, immediately.
"Oh, yeah," says Dodge City head coach Justin Burke, asked whether Pick was gunning for immediate playing time at the position. "There's no doubt."
Barring injury or some unforeseen disaster, Pick will likely have to wait a year-and-a-half before being handed the keys to the Jayhawks' high-powered offense. Todd Reesing, the guy currently handling quarterback duties, is supposedly pretty decent.
But that the 6-foot-2, 200- pound freshman even fostered such aspirations speaks volumes to the level of competitiveness he brings with him to Lawrence.
This is a player, after all, who spent his pee wee days haggling with coaches over offensive strategy as a sixth-grade quarterback. Unimpressed with the play-calling of the team's coach - who also happened to be his dad - he got together with teammates and developed a system. If, at the line of scrimmage, Pick was silent, it meant the play would go on as planned.
"But if he'd say the name of a state - Kansas, Nebraska, Colorado - then we knew we weren't running the play his dad called," says Brayton Maier, a former teammate and current safety at Nebraska-Kearney. "We were running the play he wanted."
It seemed to work out. Between third and sixth grade, the team didn't lose a game.
In high school, meanwhile, it didn't take long for Pick to emerge as the town's most recognized prep athlete. In one of his first varsity games, as a sophomore, he entered a contest against Wichita East in the fourth quarter with Dodge City facing a 15-0 deficit.
Things did not exactly look great for the Demons. This was a program, after all, coming off 10 straight losing seasons and a string of 22 straight losses to league opponents.
But here came Pick, smaller than most of the other players on the field. And before long, he was leading Dodge City down the field for a touchdown drive that pulled the team to within nine. And then, following a defensive stop, he was back behind center, orchestrating another drive that ends with an 80-yard touchdown pass that pulled Dodge City even closer.
A recovered onside kick and game-winning field goal later, and folks around Dodge City knew the name Kale Pick.
The next season, as a junior, he threw for 1,779 yards and 19 touchdowns, earning all-state honors while leading Dodge City to its first winning season in 12 years, but a thumb injury in the first game of his senior year sidelined him for the remainder of the season.
Still, he had done enough in his first season as a full-time starter to earn the interest of a number of Division-I schools - Iowa State and Arkansas among them. And after initially committing to play at Arkansas, he instead signed with home-state Kansas.
Now, he's doing everything he can to put himself in position to be the Jayhawks' next great quarterback.
Reesing's throne will not just be handed over, of course. For one thing, a lot can happen in a year and a half. For another, he's got a 6-foot-3 lefty named Tyler Lawrence to contend with. Last week, Lawrence replaced Reesing late in the fourth quarter, completed his only pass of the game and scrambled twice for 17 yards.
So while he waits for the opportunity to compete for the full-time spot, Pick's attention is focused on soaking up as much information as possible. Watching Reesing carve apart opposing defenses and then going through the drive in his mind, trying to figure out what he would have done in each situation. Impersonating South Florida quarterback Matt Grothe as a member of the scout team during the week leading up to Kansas' game against the Bulls. Using quarterback meetings as a chance to fully immerse himself in the team's offensive schemes.
And coaches, for their part, have been impressed with the early returns.
"Because he realizes his time is probably in the near future, he isn't one of those guys who just sits there and says, 'My day will come,'" says offensive coordinator Ed Warinner. "He's absorbing it like he's going to play in this week's game."
Which, certainly, he wouldn't mind doing.
But for now, he'll keep working. Keep learning from Reesing. Keep studying the offense. Keep contributing in scout team drills.
"I've just got to keep working hard," he says. "I can't settle for being known as the next guy. I've just got to keep going hard and getting better everyday."
Copyright 2018 The Lawrence Journal-World. All rights reserved. This material may not be published, broadcast, rewritten or redistributed. We strive to uphold our values for every story published.