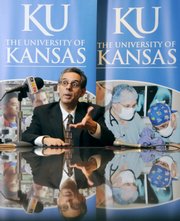 Kansas University leaders announced Monday that the university had received a six-year, $20.2 million research award from the National Institutes of Health.
It is the largest federal research award made in Kansas. The previous largest, $19 million, was given to KU in 2005 by the National Science Foundation.
"Today, we have one more reason to say KU is a great place to be a champion," Chancellor Robert Hemenway said to about 100 people in the auditorium of the Simons Biosciences Research Laboratories, located in the Higuchi Bioscience Center complex on KU's West Campus.
The university will join eight other institutions in searching for molecules that can help fight disease and advance human health.
KU's research effort will be led by Jeff Aube, who has been a medicinal chemistry professor for 23 years.
"The NIH is linking up a number of outstanding investigators throughout the country in order to focus their efforts on human health problems that can't be solved in just one lab," Aube said.
KU is adding about 20 grant-funded positions with salaries ranging from $40,000 to $100,000. Those positions include faculty members, support scientists and postdoctoral researchers.
Their main job is to take the few molecules - out of hundreds of thousands - that hold promise and make them more useful. Aube, pronounced o-bay, compared KU's job to that of a goldsmith. They will be taking that nugget of gold that was discovered in a pile of gravel and turning it into a spectacular ring.
"Our job is to make it great at what we want it to do," he said.
Such work, it is hoped, will lead to new drugs and therapies for all sorts of diseases. Aube said the findings would be shared throughout the world and not limited to just the institutions involved in the research.
Provost Richard Lariviere pointed out that not only does this award mean endless possibilities in health research, but it also bodes well for the local and state economy. He said 85 percent of all NIH funding in Kansas goes to KU.
Last year, he said, KU researchers expended $193 million, which could rival some of the largest companies in the state - in terms of income and employment.
"Everyone in Kansas can take pride in this achievement and these contributions," he said.
Mayor Mike Dever said the NIH grant could help put Lawrence and KU on the bioscience map.
"I think it's tremendous any time we can get federal dollars into our community to help elevate our school and community and bring really intelligent, smart people here," he said.
The grant established a new Specialized Chemistry Center. It is housed in the third phase of the Structural Biology Center on KU's West Campus, which opened in June.
Having such a center was key to obtaining the award, Aube said. The NIH was moving from a pilot phase into a production phase of a research program that started in 2004 and they were looking for research labs designed to do the necessary chemistry.
"We largely were able to do that because of KU support at the outset," Aube said. "NIH specifically mentioned that the KU institutional support for this program was superb."
Copyright 2018 The Lawrence Journal-World. All rights reserved. This material may not be published, broadcast, rewritten or redistributed. We strive to uphold our values for every story published.