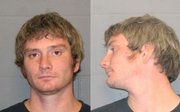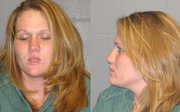 Two people were charged in Douglas County District Court Monday with felony aggravated battery in separate incidents.
Cody Nehrbass, 30, of Lawrence, was charged with intentionally disfiguring or causing great bodily harm to someone, in an aggravated battery case that police described as domestic-related, court records indicate.
About 8:15 p.m. Friday, police were called to a disturbance at a home in the 1300 block of Ohio, where officers had contact with a 29-year-old woman, who was then taken to Lawrence Memorial Hospital for treatment, a Lawrence police spokeswoman said.
Nehrbass was arrested on suspicion of aggravated domestic battery. He was also found to be in violation of a protection from abuse order, police said.
Nehrbass was released from jail on bond, according to jail records. His next court date is Sept. 17.
Brittany Carter, 23, of Kansas City, Mo., was charged with felony aggravated battery, after allegedly striking a 22-year-old victim, from Kansas City, Kan., with a beer bottle.
The suspect and victim reportedly had a verbal argument at an address near The Outhouse, a nightclub in the 1800 section of North 1500 Road, when the alleged battery happened, Douglas County Sheriff's Office spokeswoman Lt. Kari Wempe said.
Carter was arrested about 2:45 a.m. Sunday.
Prosecutors accuse Carter of "intentionally causing bodily harm to another person with a deadly weapon, or in any manner whereby great bodily harm, disfigurement or death can be inflicted," court records indicate.
An attorney was appointed to Carter on Monday and she's scheduled to be back in court on Sept. 23. She was released from jail Monday on $2,500 bond, jail records said.
Copyright 2018 The Lawrence Journal-World. All rights reserved. This material may not be published, broadcast, rewritten or redistributed. We strive to uphold our values for every story published.