-->
Audio Clips
KU vs. Louisiana Tech
Photo Gallery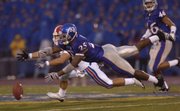 KU vs. Louisiana Tech
Kansas' Harper hurt in first-quarter collision
Senior cornerback Kendrick Harper was taken off the sideline in a stretcher late in the first quarter Saturday, following what appeared to be a collision sustained during the early stages of Kansas University's 29-0 victory over Louisiana Tech at Memorial Stadium.
The injury appeared to occur midway through the first quarter on a play, although Harper walked off the field on his own power.
Kansas coach Mark Mangino declined to go into details of the injury following the game, but said that Harper was being treated and that he would pass on more information when it became available to him.
"I don't want to say anything that is irresponsible," Mangino said. "I want to make sure that when I talk about him, I have all of the information that I need. But he's in good care. He's in good hands."
Hatch makes first career start
After sitting out last week's season opening victory over Florida International, red-shirt freshman Jeremiah Hatch made his first career start at right offensive tackle for the Jayhawks.
QB Todd Reesing was sacked just once and looked to have much more time to operate in the pocket than he did a week ago. In the first quarter alone, Reesing completed seven of nine passes for 98 yards and finished with 412 yards on 32-of-38 passing.
"I thought the offensive line did a great job last week, and I think they did an even better job this week," Reesing said. "I had a lot of time back there tonight."
Branstetter takes over kicking duties
Kicker Jacob Branstetter, who also missed the FIU game due to eligibility issues stemming from a transfer from the Air Force Academy, got off to a good start Saturday in his first game as a Jayhawk. He connected on his first career field-goal attempt, a 28-yarder with 10:38 remaining in the first quarter that gave Kansas a 3-0 lead and finished 3-of-3 on field goals.
Branstetter replaced fellow transfer Alonso Rojas as the team's starter at placekicker - although Rojas was 2-for-2 on field goals last week (47- and 37-yard attempts) - and also handled kickoffs for the Jayhawks.
McCormack honored at halftime
Former Kansas University tackle Mike McCormack was inducted into the Kansas Football Ring of Honor at halftime of Saturday's game, the 16th member to be inducted into the prestigious group.
McCormack, who played at Kansas from 1948-50, went on to a lengthy career in the NFL before being inducted into the NFL's Hall of Fame in Canton, Ohio.
Copyright 2018 The Lawrence Journal-World. All rights reserved. This material may not be published, broadcast, rewritten or redistributed. We strive to uphold our values for every story published.