Photo Gallery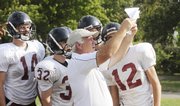 LHS football practice
Lawrence High football coach Dirk Wedd enters the 2008 season with an advantage that not many coaches can claim. Numbers.
"We probably have 22 starters back," Wedd said.
That number says more about what kind of a year 2007 was and less about what's expected in 2008. Because of injuries - and lots of them - Wedd was forced to field a different team just about every Friday night last fall, creating a situation in which several players became part-time starters.
That led to a 3-6 record and left LHS battered and bruised, both mentally and physically.
It has been roughly nine months since that lowest of low points and by now the dust has settled and most of the aches and pains have gone away. Today, the only thing LHS is concerned about is the season ahead and making amends for a year gone wrong.
"That 3-6 mark, at this school that's unacceptable," senior tailback Clifton Sims said. "This senior class has seen a lot. We've seen 6-5 and 3-6. We've seen no talent and we've seen lots of talent. We know where we've been and we know where we want to go. Now it's just time to do it."
As strange as it might seem, the trials and tribulations encountered by the '07 squad might go a long way in helping the 2008 team get where it wants to go.
The Lions return to the gridiron with several key pieces in familiar spots. At the top of that list, Wedd welcomes senior quarterback Clint Pinnick back for another year. When he was not injured Pinnick was the Lions' No. 1 QB in 2007. He showed grit, determination, toughness and the ability to throw the ball downfield. This year he's hoping to add a new dimension to his game - poise and intelligence.
"Coming in not knowing the offense last year was tough," Pinnick said. "But I'm not as nervous as I was last year. I'm a lot more comfortable. I know what's expected and I'm a lot more experienced."
Part of Pinnick's comfort comes from the skill players returning around him. In addition to Sims, who was second on the team in rushing a season ago with 459 yards on 114 carries, senior running back Jake Green, senior wideout Aaron Rea and a handful of experienced linemen return to help the Lions' cause.
"Because of all of our injuries, those guys did get their feet wet a little last year," Wedd said. "And hopefully that will help them. We return some skill. We just have to find some linemen and some defense."
That defense may have emerged earlier than expected.
During an intrasquad scrimmage last week at Kansas University, the LHS defense dominated the show, stifling the offense throughout the hour-and-a-half practice.
Instead of looking at it as a failed effort by his offense, Wedd chose to praise the defense.
That's because the ninth-year LHS head coach knows what the Lions' offense is capable of doing. And it all starts with Pinnick.
"Clint's a football player," Wedd said. "He probably learned to walk in a locker room."
Wedd and the Lions opened eyes in recent years by shifting the focus of the offense away from the traditional power running game to more of a wide-open passing attack. But Wedd and this year's group are hoping to return to the ways of old, the ground game that made Lawrence High a dynasty in the past.
"I'd love to throw it 50 times a game, but it's not about me," Pinnick said. "It's about our team, and I want these guys in the backfield to get as many carries as they can. We have a great backfield."
Wedd agreed and preached using that backfield to even out the offense.
"We don't want to be a throwing team," Wedd said. "We want to be a balanced football team. But I learned this from my dad a long time ago; if you have plowhorses, you plow. If you have race horses, you race."
Co-captains Pinnick and Sims are joined by senior lineman Ryan Giblin as captains this season, and Sims said all three guys were ready for the responsibility that comes with taking over the leadership reins.
"Certain things weren't getting done last year," Sims said. "Tackles were not being made, touchdowns were not being scored. Lions run in a pride and we don't want to abandon anybody this year. We want to be there for each other all the way."
Copyright 2018 The Lawrence Journal-World. All rights reserved. This material may not be published, broadcast, rewritten or redistributed. We strive to uphold our values for every story published.