Photo Gallery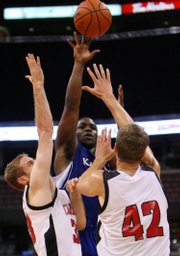 KU in Canada: Day 1
Photo Gallery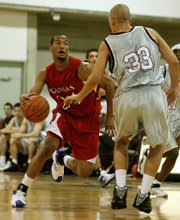 KU in Canada: Day 2
KU in Canada: Day 2
Ottawa, Ontario — Bill Self's Labor Day weekend trip to Canada was short, but oh so sweet.
"It was great. The only thing that could have been better is if we had the twins with us," Self, Kansas University's sixth-year basketball coach, said, referring to freshmen Marcus and Markieff Morris, who are still awaiting word from the NCAA Clearinghouse on their eligibility.
The brothers from Philadelphia couldn't travel north of the border with their KU teammates, who arrived at 8 p.m. Friday and left town early Monday morning.
"We got better. I'm happy with our guys," said Self, whose Jayhawks beat McGill, 72-67, Carleton, 84-83, and Ottawa, 95-60.
"I'm by no means giddy, but compared to where we were eight days ago (at start of practice) ... I think we've got some pieces to work with."
KU sophomore center Cole Aldrich, who grabbed 18 rebounds against McGill, said the team showed fire in a pair of narrow victories.
"We've got a lot of heart," Aldrich said. "We are fighting through some things a little bit."
Things like the absence of the twins as well as Sherron Collins, who played in just 22 minutes the entire trip as he continues his recovery from arthroscopic left-knee surgery.
The 5-foot-11 junior point guard scored 10 points off 5-of-12 shooting with an assist and four turnovers in Saturday night's one-point victory over Carleton.
"He is not himself," Self said. "Considering he hasn't done anything in four months, that's somewhat to be expected. The biggest thing now is, how is his knee? And the doctors have said it's fine. We will get him in shape. He's not in shape now. He had no explosion, but we'll get him in shape."
"Boot Camp" alone in late September/early October will get the Jayhawks in tip-top condition.
Collins said he'd be ready for the Oct. 17 Late Night in the Phog.
"I'm easing into it. I didn't get much time here. I wish I had more (playing time), but I'm being patient. I'm now like an assistant coach. It's like my job. I'm helping everybody else," he said.
"I am out of shape, but I couldn't do anything for a few months. I'm losing weight. I'll be ready for the season."
Collins took his "assistant coaching" role seriously in Sunday's rout of Ottawa. During a first-half timeout, he stood in a crouch, tutoring freshman Tyshawn Taylor (20 points versus Ottawa; 18 against McGill) on the finer points of defense.
"It will not be a team as good as last year," Collins said of the young 2008-09 Jayhawks. "But some things will be like last year. A lot of different guys will lead the team in scoring on a given night."
He was quite impressed with not only Taylor, but freshman Travis Releford, who scored 25 points against Carleton and 11 against McGill.
"Tyshawn does some exciting things. Travis will be one of the big players for us this year," Collins said.
"I was really impressed with Travis," Self noted. "He's really good in the open court."
Self can't wait for the regular season to start.
"This is not our team, at least I hope it's not," Self said. "We'll get the twins back and Sherron back to go with the rest of our guys who learned a lot these eight or nine days."
Copyright 2018 The Lawrence Journal-World. All rights reserved. This material may not be published, broadcast, rewritten or redistributed. We strive to uphold our values for every story published.