Photo Gallery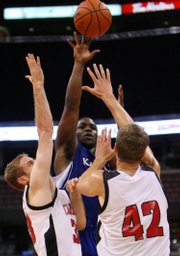 KU in Canada: Day 1
Photo Gallery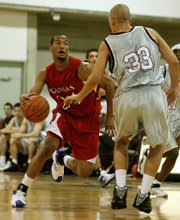 KU in Canada: Day 2
KU in Canada: Day 2
Ottawa, Ontario — Here are some of my first impressions of the 2008-09 Kansas Jayhawks, based on the squad's Labor Day weekend trip to Canada. KU defeated McGill, 72-67, and Carleton, 84-83, on Saturday before pounding Ottawa, 95-60, on Sunday.
Cole Aldrich: The 6-foot-11 sophomore appears primed for a breakout season. A rebounding machine, he grabbed 18 rebounds versus McGill, eight against Carleton and seven in just 13 minutes against Ottawa.
He had two of the most exciting plays of the trip, catching a lob from Brady Morningstar and jamming to open the Carleton game and plucking a midcourt steal and racing in for an vicious dunk again versus Carleton. Pretty agile stuff for a 250-pounder.
Tyshawn Taylor: The freshman point guard saved the day versus McGill, hitting seven of 11 shots, good for 18 points. He showed amazing quickness, taking it to the rack for 21 points in the finale against Ottawa. Fans are gonna love this guy despite the fact he's sometimes careless with the ball.
Mario Little: At 6-foot-5, 210 pounds, the juco transfer from Chicago is a bit undersized for a power forward. But he actually showed some decent post moves, twice banking in short jumpers.
He also displayed a nice, 12-foot fadeaway jumper against Ottawa. Not afraid to mix it up, the Chicago native grabbed six boards against McGill and seven versus Ottawa. He will move to small forward once the Morris twins become eligible.
Travis Releford: The Kansas City native had an exhibition game for the ages against Carleton, hitting 10 of 11 shots (2 of 2 threes), good for 25 points. He reminds me of a young Brandon Rush. He's that smooth.
Quintrell Thomas: Think of Darnell Jackson as a freshman. Thomas, who had 12 points and eight boards in the trip finale, also came up big down the stretch against Carleton. He converted a pair of inside baskets, one off an inbounds pass, and finished with seven points and five boards against the best team in Canada.
Thomas likely learned some valuable lessons in guarding 6-7 Canadian player of the year Aaron Doornekamp.
Sherron Collins: It was good to see Collins play 20 minutes against Carleton. KU wouldn't have beaten Carleton without the junior point guard. He doesn't look fat or out of shape to me. If he can stay healthy, he's going to be one of the best players in the country this season.
Tyrone Appleton: The juco point guard's first bucket as a Jayhawk was a big one. His steal and driving layup gave KU a 73-70 lead against Carleton. To me, he looks like a more skilled version of Rodrick Stewart. One of the most interesting exchanges of the trip was Self at one point yelling to Appleton: "Tyrone, get us a shot (by feeding the open man). That's your job."
Tyrel Reed: The soph point guard hit a deep jumper that has to do wonders for the Burlington native's confidence. He stuck a three-pointer from the corner that tied the Carleton game at 80. When he's set, he can score from long range. Off balance, he's not nearly as effective.
Brady Morningstar: Like Reed, the sophomore shooting guard came up big when needed, stroking a deep jumper to beat the halftime buzzer and give KU a one-point lead against Carleton. Brady hit just three of 10 shots for the trip. To me, it looks like he's still a bit uncomfortable on the court, fully understandable since he took a red-shirt last season.
Conner Teahan: The KC Rockhurst walk-on swished KU's only threes versus McGill. They were big threes in the heart of a close game. He was called for charging on a 3-on-1 break during a crucial possession late in the Carleton game. A smart kid, he'll learn from that mistake.
Brennan Bechard: Given some playing time against Ottawa, he swished a three from the corner, helping KU build a 29-19 lead. He also grabbed four boards on a night Self let everybody play a lot.
Matt Kleinmann: The big redhead scored six points late in the Ottawa game to the delight of KU's fans, who seem to want him to become the next Christian Moody (i.e. a walk on who plays a lot). Kleinmann definitely knows what he's doing out on the court, but won't play much unless the Morris twins fail to qualify.
Chase Buford: Sporting a goatee, fans might not recognize him this season. He banged in a jumper to conclude the Ottawa game, meaning all Jayhawks present scored on the trip.
Copyright 2018 The Lawrence Journal-World. All rights reserved. This material may not be published, broadcast, rewritten or redistributed. We strive to uphold our values for every story published.