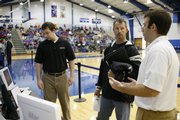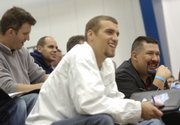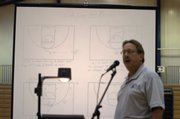 Kevin Boyle, who has led St. Patrick High School to six New Jersey state titles in the past 11 years, shared some of his secrets of success with the 400 or so coaches in town for Bill Self's basketball clinic Saturday in Allen Fieldhouse.
"Hopefully these guys will go home and say, 'I've got a couple new plays, five or six I've never seen before,'" said Boyle, who coached Kansas University freshman forward Quintrell Thomas at the Elizabeth, N.J., school.
"I talk about some of my favorite drills and quick-hitters, a couple backdoors, a couple plays to get the ball inside, a couple misdirection plays, a couple plays to get jump shots," said Boyle, a former collegiate standout at Seton Hall, then St. Peter's in the 1980s.
He has coached at St. Patrick for 20 years, most recently sending Thomas to KU, Jeff Robinson to Memphis and Corey Fisher to Villanova. Current St. Pat's senior Dexter Strickland is headed to North Carolina next year. He also has tutored NBA players Al Harrington and Samuel Dalembert and current Iona assistant Shaheen Holloway.
He likes what he has seen of Thomas watching KU practice this weekend.
"Anytime you go to a place like Kansas, there are questions of people: 'Will you play a lot?' This is one of the premier programs in the country. After seeing practice, I think he has an excellent chance to get some playing time as a freshman," Boyle said.
"I told him, 'Don't assume it'll happen. Play hard every day to make it happen.' He started playing basketball in eighth grade. He has a great window for improvement. I think he'll improve, improve, improve. I think he'll have a great four years."
Boyle also likes what he has seen of KU freshman guard Tyshawn Taylor, who played against Thomas and Boyle at St. Anthony High in Jersey City, N.J.
"Tyshawn is doing well. He looks to be an outstanding player at this level," Boyle said. "We beat them his junior year. They beat us last year. If he keeps his head straight, I think he has a legitimate chance to be a pro."
On a personal note, Boyle, whose teams have been ranked in USA Today's national top 25 for 15 years, had never been to Lawrence until this weekend.
"They've (Jayhawks) had some players from the east, not many until recently," Boyle said. "This is a historic gym. It's great to be here, good to see them practice. Obviously, Kansas will be very young. I still think they have a chance in the conference. The following year they will be outstanding when the young kids grow up."
Copyright 2018 The Lawrence Journal-World. All rights reserved. This material may not be published, broadcast, rewritten or redistributed. We strive to uphold our values for every story published.