Photo Gallery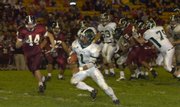 LHS vs. Free State football
Audio Clips
2008 LHS-Free State football
High School Spodcasters
Spodcasters Postgame: Free State 21, LHS 13
The guys (Matt Tait, Jesse Newell) put the final touches on this year's City Showdown with postgame analysis, plays of the game and a look ahead to the final week of district play for the Lawrence High and Free State football teams.
Oh, what a night
It was football weather at its finest on Friday at Haskell Stadium, a crisp 46 degrees at kickoff with a light wind coming out of the west. Although the temperature dipped a few degrees throughout the night, the game was played in pleasant conditions throughout.
Welcome back
Lawrence High was the home team on the scoreboard Friday night, and because of that two classes from the past used the game as the focal point of their reunion. The Class of 1998 returned to celebrate its 10-year reunion, and the Class of 1983 was back to celebrate its 25th.
Hit of the night
The most jaw-dropping defensive tackle of the night came midway through the third quarter, when LHS senior Murphy Ray Jr. popped Free State's Chucky Hunter on a fourth-down run at the Lions' three-yard line. The hit knocked Hunter's helmet off, but Hunter had the last laugh. His run set up a first-and-goal, and Camren Torneden scored the Firebirds' third touchdown one play later.
Energizer bunny
On the eighth play of the Lions' second TD drive of the night, LHS senior Clifton Sims got going and basically never stopped. Despite being lifted off the ground and into the air by a gang of Free State tacklers, Sims kept his legs moving and somehow kept moving forward. Even after his feet were back on the ground, Sims kept moving and dove head-first, hoping to gain every inch possible. Six plays later, Sims plowed into the end zone from a yard out to cut the FSHS lead to 21-13.
Series notes
The victory was the third straight in the showdown for the Firebirds, evening the overall series at 6-6. It also was the most closely contested game since Lawrence's 33-28 victory in 2005.
Lawrence High vs. Free State
Copyright 2018 The Lawrence Journal-World. All rights reserved. This material may not be published, broadcast, rewritten or redistributed. We strive to uphold our values for every story published.