Photo Gallery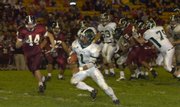 LHS vs. Free State football
Audio Clips
2008 LHS-Free State football
High School Spodcasters
Spodcasters Postgame: Free State 21, LHS 13
The guys (Matt Tait, Jesse Newell) put the final touches on this year's City Showdown with postgame analysis, plays of the game and a look ahead to the final week of district play for the Lawrence High and Free State football teams.
Lawrence High vs. Free State
Aaron Rea hit the nail on the head.
"We, as a whole, played pretty well," said Rea, a Lawrence High senior, "but that's a good team."
In the wake of Free State's 21-13 victory over the Lions on Friday night at Haskell Stadium, it was clear Lawrence High's players had given it their best shot.
If there had been a betting spread, no doubt the Lions would have beaten it because they left everything they had on the tacky stadium grass.
"We played our hearts out," said Clifton Sims, another senior. "We played our hearts out."
Sims was a shining light in his last game against the Firebirds, rushing for 126 yards on 19 carries, including a 62-yard scamper that set up the Lions' second touchdown in the fourth quarter.
Until Sims broke free, the Lions had managed just one offensive play for double-digit yardage - a 12-yard run by Sims in the second quarter.
His 62-yard ramble on a trap play up the middle gave the Lions renewed hope at a time when they were down 21-7 and just spinning their wheels.
"It was a hard game to play because we were hanging on for dear life," Lawrence coach Dirk Wedd said. "Then we caught a break on that trap play, but we couldn't get the ball back."
Indeed, after Sims bolted over on a one-yard plunge with 5:26 remaining to cut the gap to 21-13, the Lions never touched the ball again.
And that was because Free State's Camren Torneden and Chucky Hunter, as they had been doing all night, took turns carrying the ball and running out the clock.
"We knew their backfield was probably the best we'd seen," said Rea, who scored the Lions' first TD on a five-yard pass from Clint Pinnick, the only LHS completion of the night. "And Hunter had a great game."
Hunter (223 yards) and Torneden (80) combined for 303 rushing yards.
"You hold your breath every time they touch the ball," Wedd said. "They're dynamic. You don't see high school kids of that caliber every day."
Not only are the 5-foot-8 Hunter and the 5-7 Torneden fast and elusive, Wedd noted that their size works in their favor as well.
"With those earth movers they have up front," the Lions' coach said with a smile, "it's hard to see little guys behind those big guys."
Lawrence had to play a mistake-free game to have a chance, and came close. The Lions didn't lose a fumble, they didn't throw an interception and they were penalized just 20 yards.
Meanwhile, cornerback Murphy Ray intercepted a Torneden pass and the Lions recovered a Hunter fumble.
Despite the loss, Lawrence (3-5) can still earn a berth in the Class 6A playoffs if it defeats Leavenworth on the road next Friday.
"We've got to get over this game," Wedd said, "and it's a hard game to get over because of the emphasis everyone puts on it."
Copyright 2018 The Lawrence Journal-World. All rights reserved. This material may not be published, broadcast, rewritten or redistributed. We strive to uphold our values for every story published.