Photo Gallery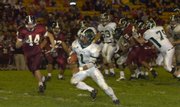 LHS vs. Free State football
Audio Clips
2008 LHS-Free State football
High School Spodcasters
Spodcasters Postgame: Free State 21, LHS 13
The guys (Matt Tait, Jesse Newell) put the final touches on this year's City Showdown with postgame analysis, plays of the game and a look ahead to the final week of district play for the Lawrence High and Free State football teams.
Lawrence High vs. Free State
The signature arch still lends it beauty and charm. The classy, giant red letters that spell Haskell Stadium give passersby on 23rd Street a warm feeling every time they see them.
Yet, if Free State High's 21-13 victory against Lawrence High told us anything on a cold Friday night, it told us the move out of Haskell and onto the city's two high school campuses is coming at just the right time.
After the Firebirds won by playing LHS football and playing it better than the Lions did, the field was a choppy mess. The buzz usually generated by the city rivalry never showed up. Neither did most of the city's football fans. The crowd easily could have fit into either one of the on-campus, turf-field football stadiums scheduled to open for business next fall. City rivalries played on campus would make tickets to the games hot. There was nothing hot about Friday night. Even the ghosts stayed away for fear of being bitten by frost.
Sure, there were some noteworthy performances. Free State quarterback Camren Torneden, all 5-feet-7 and 160 pounds of him, flashed equal parts quickness and determination, breaking big runs all night and grinding out key first downs late, keeping the clock ticking toward expiration. Firebirds senior nose tackle Jack Caywood, all 5-8, 165 pounds of him, plays the game with the inexhaustible fury of a bantamweight boxer slaying heavyweights. He's Muggsy Bogues blocking Manute Bol's shot.
Too bad the performances weren't appreciated by spectators crammed into a packed stadium on one of the campuses. The new facilities will benefit other sports as well, keeping students on campus to play their sports, instead of driving all over town. It also will make it easier and more fashionable for students to watch the games of classmates.
Allow me a Utopian fantasy for just this one minute, please. Maybe it would even keep those select few parents - call them the loud minority - from introducing negative vibes into their children's otherwise enriching high school athletic experiences by complaining that their child's sport doesn't get as much attention as football, even though, "Those kids try just as hard as the football players, you know."
Anyway, change seldom comes without pain. Nostalgia tugs at the heart strings. If it hurts to think of the past and all its glory, try salving the wounds by thinking of the enhanced school sprit the changes can bring about.
On the topic of change, let's shift to today's game at Memorial Stadium, featuring Kansas University's Todd Reesing and Texas Tech's Graham Harrell.
The KU secondary, not helped by a lousy pass rush, has been torched by lesser quarterbacks than Harrell, so maybe now is the perfect time for a shakeup in the secondary.
Three days after the Iowa State victory, I asked Darrell Stuckey, the fastest and most confident member of the secondary, if he thought he would make a good cornerback.
"It would probably take a little time getting used to," Stuckey said. "I feel like I could play a little bit maybe, but it would take some time. I feel anything I put my mind to I can do, but it would take a little time."
Who could spell Justin Thornton and Patrick Resby at safety then? Why not linebacker Arist Wright? Change can be a good thing.
Copyright 2018 The Lawrence Journal-World. All rights reserved. This material may not be published, broadcast, rewritten or redistributed. We strive to uphold our values for every story published.