Photo Gallery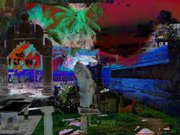 Lawrence ArtWalk
Past Event
When: Saturday, October 25, 2008, 10 a.m. to 4 p.m.
Where: Downtown Lawrence, Lawrence
Cost: Free
-->
-->
Karen Ohnesorge refuses to see the world as individual images.
"That's the way I associate everything: through connections," she says. "It's like a kaleidoscope."
And that's the way she relays it back to the world, too, through art - whether it's written word or visual art.
Ohnesorge will be showing and talking about her art this weekend as part of the 14th annual Lawrence ArtWalk, held at venues throughout Lawrence and Douglas County. Ohnesorge will be at the Lawrence Public Library, 707 Vt.
In certain ways, she has an advantage over some other artists in explaining her work to viewers: She's an English professor at Ottawa University, and her poetry and critical writing often is tied to topics that she tackles in her art.
Most of Ohnesorge's art these days is made of digital photo collages, layered together using Photoshop software. She tackles issues such as race, gender and socioeconomic inequities in her work.
"I think the aesthetic and the political are fused," she says.
Ohnesorge attended the University of Tennessee-Knoxville for her undergraduate degree and was having trouble deciding between a career in writing and a career in art.
"I decided not to decide," she says. "I kept up with both of them."
Her bachelor's degree is in fine arts, her master's is in creative writing (from New York University), and she received a master's in English from Kansas University.
While she earns a living teaching English, she maintains her art life, as well - especially gearing up for the ArtWalk, where she will have prints, postcards and other cards available for sale.
She usually incorporates photographs she's taken into her collages. She'll experiment with various image combinations - often ending up with 100 or more images - before she chooses a final image. The goal: "trying to complicate the conversation."
"If I'm moving from work for me to work for the public, there's a major process of culling through images and finding those that ARE art," she says. "It has to matter more than in the artist's head. I tend to engage in a lot of theoretical BS."
Lately, her artwork has centered on a 2007 trip to Kenya, where she accompanied a group of Ottawa University students. She especially was sensitive to the economic disparities between the travelers and those they met in Kenya.
Previous works have delved into the relationship between American Indians and the land, among other topics.
"I find her work fascinating," says John Wysocki, director of the ArtWalk. "It's so densely packed and has so much meaning. The mark of a good piece of art is you can go back to it time and time again and see new things."
Dian Hauser, an artist who has participated in the ArtWalk with Ohnesorge for several years, agrees there are deep layers in her art.
"She's a very deep, intelligent person, and that just carries over into everything she does," Hauser says.
In addition to the photo collages, Ohnesorge also makes shadow boxes and often keeps journals that mix artwork and written words.
"Both of them are languages for me," she says. "I cross boundaries pretty fluidly."
Copyright 2017 The Lawrence Journal-World. All rights reserved. This material may not be published, broadcast, rewritten or redistributed. We strive to uphold our values for every story published.