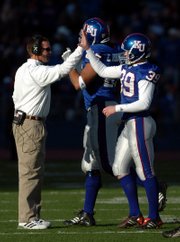 Clint Bowen needs a hug.
It's early afternoon on a recent Tuesday, and Bowen, the first-year defensive coordinator for the Kansas University football team, is surrounded by reporters who are asking him, in short, why his defense hasn't been able to stop anybody this season.
It's a fair question.
Last week, in a 45-31 loss to Oklahoma, his defense gave up 468 passing yards and a season-worst 45 points, and entering today's game against No. 8 Texas Tech, the Jayhawks rank 99th (out of 119 NCAA Bowl Subdivision teams) in pass defense.
But Bowen's hardly alone. Unfortunately for him and his defensive-coordinator brethren, questions like these have become commonplace in recent months, as once-proud defenses across the country are falling victim to an offensive onslaught - brought to you by the quickly growing spread - that doesn't appear to be going away anytime soon.
Week after week, offenses - particularly those in the Big 12 - have been racking up yards at a record-breaking rate. And week after week, Bowen and Co. are charged with figuring out a way to stop a beast that, to this point, looks to be nearly unstoppable.
A frustrating prospect, no?
"It has a little bit," says Bowen, who took over defensive coordinator duties for Miami-bound Bill Young following last season. "I've talked to a couple other coordinators at other schools and everything, and if you look at the numbers that the offenses in this conference are putting up, it's kind of making us not look so good."
At the moment, the Big 12 is littered with some of the worst-ranked defenses in the country. Only four teams -Oklahoma, Texas, Oklahoma State and Texas Tech - rank in the top half of Bowl Subdivision teams in total defense, while only Colorado is currently in the top half in pass defense.
Even Oklahoma, highly regarded over the years for its defensive prowess, seems at a loss for ways to stop the potent offensive attacks it sees on a weekly basis. Although they rank first in the Big 12 in total defense, the Sooners are just 34th nationally and gave up a combined 76 points in their last two games, against Texas and Kansas.
"(That) shows you that everybody in the conference is facing spread offenses, and it creates hardships for every team," Kansas coach Mark Mangino said. "... In our conference, with the spread offense, nobody is playing really exceptional defense."
The shift in power has sent defensive coordinators scrambling for help. Phone calls to coordinators at opposing schools are common. So is constant time in the video room. Anything for an edge.
One of the best sources of help, though, is often found just down the hall.
Bowen regularly speaks with Kansas offensive coordinator Ed Warinner, who is largely responsible for introducing the Jayhawks' pass-heavy spread system last season, about what kind of defensive looks give the spread offense fits.
"He'll say, 'We're having trouble with this; if you do this, what gives you trouble?'" says Warinner, who also picks Bowen's brain for hints on how to exploit opposing defenses. "So we just talk about it: 'This is how you do this. If I was defending us, this is how I would stop it.'"
The glimmer of hope that defensive coordinators cling to in times like these is the idea that trends in college football tend to be cyclical. In the 1970s, it was the wishbone.
In the 80s and 90s, variations of the West Coast offense were dominant.
And in the 2000s, the offensive strategy of choice appears to be spreading the field from sideline to sideline, lining up as many receivers as possible, and then spending three hours on Saturday afternoons firing as many passes to them as possible.
So over time, the thought goes, defenses will adapt and adjust, and the spread will slowly disappear, relegated to the junkpile of offenses - the I-formations and triple-options - that were once mighty but now are nearly obsolete in the world of big-time college football.
At least that's the hope.
"It'll catch up," Bowen says. "You see the tide (turning). You see the cycle that people have tried to do against it. And people are getting better at defending it."
Or maybe not. At least one player who has made a career out of picking apart opposing secondaries as a member of a spread offense hasn't noticed much of a difference at all.
"I don't know if you'll ever be able to stop the spread," says Kansas quarterback Todd Reesing, who set 21 school records as a sophomore last season. "But I think at this point in the Big 12, trying to limit it might be good enough."
Copyright 2018 The Lawrence Journal-World. All rights reserved. This material may not be published, broadcast, rewritten or redistributed. We strive to uphold our values for every story published.