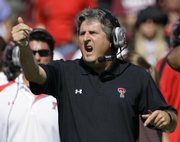 Going Deep
Red Raider Report
In Week Eight of Going Deep, Matt Tait and Eric Sorrentino speak with Don Williams of the Lubbock Avalanche-Journal and redraiders.com. Williams talks about the potential high-scoring affair between the Jayhawks and Red Raiders in Lawrence on Oct. 25. Also, where would he rank the talented Texas Tech quarterback/wide receiver duo of Graham Harrell and Michael Crabtree in the program's history?
Even as his team has built a perfect 7-0 record (3-0 in the Big 12) and No. 8 national ranking this season, Texas Tech coach Mike Leach has been faced with questions about his team's recent "struggles" - specifically, underwhelming performances against conference opponents Nebraska and Texas A&M.;
And Monday, Leach, whose Red Raiders will take on Kansas University at 11 a.m. Saturday at Memorial Stadium, let the media know his feelings on the matter.
"One thing that's funny to me (as) I've been getting some of these questions, is everybody in the media has a huge hand in rating these things," Leach said. "They want to rate Nebraska's last eight recruiting classes in the top 10, and maybe even higher than that. They want to rate A&M;'s recruiting classes in the top 15 or so. And then they want to tell me the week leading in that those teams are down. And then they want to tell me that we should have beat them worse than we did.
"There's something ironic there."
Ironic or not, there's no denying Tech has looked less than stellar in its past two outings. Against the Cornhuskers on Oct. 11, the Red Raiders needed overtime to pull out a victory, and the following week, against lowly A&M;, they fell behind at halftime before recovering late.
Kansas is ranked No. 19 and a two-point favorite over the Red Raiders as of Monday evening.
"I don't read anything into the Nebraska game, nor do I read anything into the Texas A&M; game," KU coach Mark Mangino said. "Because each and every game, each and every opponent, has its own challenges and its own weaknesses to deal with."
Tech check
Here are the opponents and scores from Texas Tech's wins this season:
East. Wash - 49-24
at Nevada - 35-19
SMU - 43-7
UMass - 56-14
at Kansas St. - 58-28
Nebraska - 37-31 (OT)
at Texas A&M; - 43-25
Copyright 2018 The Lawrence Journal-World. All rights reserved. This material may not be published, broadcast, rewritten or redistributed. We strive to uphold our values for every story published.