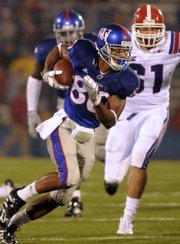 Don't expect Kansas University receiver Dezmon Briscoe to change his name to Dezmon Ocho Cero, Spanish for "8-0."
Although Briscoe acknowledges being a fan of the Cincinnati Bengals receiver formerly known as Chad Johnson, he's not in any hurry to emulate Mr. Ocho Cinco.
Same goes for Briscoe's thoughts about Terrell Owens.
Briscoe, a 6-foot-3, 200-pound KU sophomore, enjoys watching both NFL superstars play the position, but does not see any sit-ups in the driveway or Sharpies in the sock in his future.
In other words, leave your popcorn at the movies, and leave the antics to "T.O." and company.
"Actually, T.O.'s my favorite receiver," Briscoe said. "If I was blessed with his size (6-3, 218), I'd really like that. But unfortunately I'm not. With his size and his speed and just him as a receiver as a whole, he goes over the middle, he goes deep. That's the type of receiver I like."
That's on the field: running routes, making catches and scoring touchdowns.
It's the stuff that comes after the whistle blows that Briscoe doesn't pay much attention to - the stuff that captivates football fans across the nation and draws the ire of the NFL brass week after week.
"That's not really part of the position," said Briscoe, one of the quietest and most reserved members of the KU team. "We have a couple of receivers in the NFL, like Reggie Wayne and Marvin Harrison and Larry Fitzgerald, who don't really talk as much, but they do their work on the field. It depends on your personality and who you are as a person."
According to KU offensive coordinator Ed Warinner, it depends on the position, too.
Warinner has seen plenty of receivers in his coaching days, and he said players like Owens and Johnson fit the mold of a big-time play-maker in much the same way that guys like Joe Montana or John Elway fit the mold of franchise quarterback or Ray Lewis and Brian Urlacher define middle linebackers.
"The best players at each position usually have the personality that matches that position," Warinner said. "(Wide receiver is) a position where it has high volatility, and with that you have that kind of personality with those guys. I think that personality matches them."
Warinner added: "The good ones, the good receivers, as they get all the way to the top levels, that personality becomes more apparent. Just like at quarterback. The top quarterbacks in the country have a couple of characteristics that are real common in all of them. One is confidence, one is leadership. If you don't have those, you're not going to be a top quarterback."
At KU, Briscoe and the rest of the wideouts have not yet been bitten by the showboat bug. The credit for that goes partly to head coach Mark Mangino and partly to the receivers themselves.
"That's how we run our program and how we try to control that position," Warinner said. "Wide receivers : they're explosive guys. It's very obvious to everybody what they're doing, and it's easy to see as a spectator. A receiver's emotions are apparent, a receiver's actions and body language are apparent, and then their playmaking-ability becomes obvious to the naked eye. They make big plays. They're one of those guys, when they screw up it's obvious to everyone, and when they make a big play it's obvious, too."
Briscoe has done his share of both this season for the Jayhawks, but mostly has been known as the Jayhawks' home-run threat. Even after highlight-reel plays like the one where he broke six tackles and powered his way into the end zone against Louisiana Tech or the touchdown grab just before halftime against Sam Houston State where he kept working and got behind the Bearkats defense, Briscoe has focused more on playing hard than hamming it up.
"When he made that play, where he broke all the tackles, he didn't really say anything," KU sophomore Johnathan Wilson said. "But he was definitely hype. At receiver, you need to have a swagger, but you don't have to be cocky. Briscoe's a quiet guy. He just goes out and does the job."
That, Briscoe says, he learned from the man he calls the best of all time, the man he shares his number with - even if 80 was not the number he originally wanted.
"I didn't know what number to expect to get," Briscoe said, recalling his first days on campus. "The number I wanted was 3, and, of course, Aqib Talib had it. So they gave me 80. It was a good number. I didn't really like it too much at first, but I've learned to like it. The greatest all-time receiver, Jerry Rice, had it so I believe it's a good number."
The number is not the only thing Briscoe has in common with Rice.
"He's a very competitive guy. There's no telling what he'll do," senior Marcus Herford said. "But once we get out there competing, he's a high-character guy. He's not going to do anything out of character."
Copyright 2018 The Lawrence Journal-World. All rights reserved. This material may not be published, broadcast, rewritten or redistributed. We strive to uphold our values for every story published.