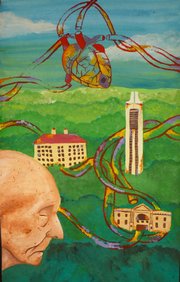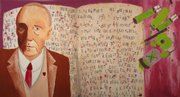 For the record, Hannah Lodwick finds most of William S. Burroughs' writings incomprehensible.
"I think some of his works are just way above me, or I would say the majority are," Lodwick says. "Like 'Naked Lunch' — really no idea. Maybe some here or there. His shorter stories, though, I found a little more of a connection. 'Four Horsemen of the Apocalypse,' I felt I understood that a little bit more. But I've never felt that I've fully understood a piece of his."
But that didn't stop Lodwick from exploring the beat generation writer's later years in Lawrence in a 12-piece series of paintings she completed last year.
It's the highlight of her young art career, but she's hoping it's just the beginning. The Free State High School senior is the ArtStar for November, and she's applying to art schools to take her skills to new heights.
"I just really want to expand to my full potential," she says. "I don't want to look back and say, 'Oh, man, I could have done this or that.' So I'm really looking for a place that can do that for me."
Burroughs focus
Lodwick grew up taking 2-D art and ceramics classes at the Lawrence Arts Center, then later took classes in junior high, along with photography.
She decided at FSHS that her true passions are painting and drawing.
"I try and plan things out in the beginning," she says of her creative process. "I sketch a lot, and I really plan it. And I usually spend a lot of planning on writing more than drawing, because the meaning behind the pieces almost means more to me than the visual component."
She spent a lot of time planning the Burroughs series, which she completed for an advanced placement class. Her mother is a Burroughs fan, and Lodwick grew up with his artwork around the house.
"I started reading his books in late junior high school," Lodwick says. "And then I've kind of been attached to it ever since. He's probably my favorite of the beat writers."
She used Burrough's "cut-up" style — in which he took words and rearranged them into a random order — for several of the pieces.
"One of the things we discussed was a lot of people outside of Lawrence are familiar with Burroughs' work, but they may not be familiar with everything about him," says Carolyn Berry, art teacher at FSHS. "How to put his life into a span and show the connectedness with it — not just in Lawrence but in other places — was part of her problem to do. She did a great job at it."
Telling a story
Lodwick spent part of last summer at the School of the Art Institute of Chicago, in a program for high school students. It — along with the Kansas City Art Institute — tops her list of colleges she'd like to attend.
In addition to her time in front of an easel, Lodwick is in Chamber Choir and Symphonic Band at FSHS. She also was selected the first-chair flutist for District Band this year.
Still, it's her art that she expects to be her career. She's hoping to get a master's degree and teach at the college level in addition to pursuing her own art.
"I just hope that it tells a story," she says of her art. "And it doesn't necessarily matter to me if they visually like it. I just hope they gain something, or information, from it."
Copyright 2018 The Lawrence Journal-World. All rights reserved. This material may not be published, broadcast, rewritten or redistributed. We strive to uphold our values for every story published.