Audio Clips
2008 KU-Texas football
-->
Photo Gallery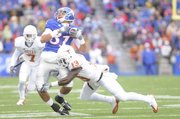 KU vs. Texas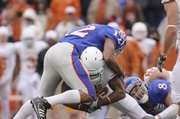 James Holt said Kansas University's three linebackers wanted to do more than play well for themselves on Senior Day against Texas.
They also wanted to leave an example to those who would play after them.
"We want to leave our legacy here," Holt said after KU's 35-7 loss to Texas on Saturday at Memorial Stadium. "We're a linebacker corps, and we like to stick together. Hopefully guys under us will understand that and bring that with them too next year."
KU's three senior linebackers - Holt, Joe Mortensen, and Mike Rivera - would have been hard-pressed to play any better in their final home game.
Those three were KU's three leading tacklers, combining for 32 stops.
Mortensen and Holt led the team with 11 tackles each, while Rivera posted 10. Holt also added a sack and a fumble recovery.
"We tried to fly around and make as many plays as we could," Rivera said. "It was our last day in Memorial Stadium. We wanted to go out with a bang. We were cut a little short, but we went out there and made a lot of tackles, made a lot of plays."
KU's defense was especially effective in the first half, holding Texas to seven points in its first five possessions.
In that time, the Longhorns had two punts, a turnover on downs and also a lost fumble.
"It just felt like the old KU defense, just flying around and feeling good," Rivera said.
UT's offense was better in the second half, scoring on three of its first four possessions to build a 35-7 lead.
Holt said he still wasn't disappointed with his teammates' effort.
"Every snap, every play today, we never let down," Holt said. "Even when they started putting points on the board, we're going to keep going after them. You never put your head down because you just never give up in a battle."
Holt hopes that's a lesson next year's linebackers learn and practice. Arist Wright and Jake Schermer are set to be the senior leaders in the 2009 linebacking unit.
"Hopefully they see what we put out on the field and what we do," Holt said, "and hopefully they'll keep that tradition going."
Rivera, meanwhile, said he made sure to soak in everything from his final minutes playing at Memorial Stadium.
"I was looking at the scenery, the fans, and I just wanted to make sure that I will remember this moment," Rivera said. "Being out there with the senior class, we just wanted to play inspired football, and we did our best to do that."
Copyright 2018 The Lawrence Journal-World. All rights reserved. This material may not be published, broadcast, rewritten or redistributed. We strive to uphold our values for every story published.