Audio Clips
2008 KU-KSU football
-->
Photo Gallery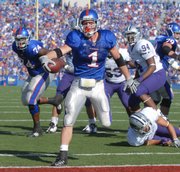 KU vs. Kansas State
Candidates for Game balls
¢ Jake Sharp didn't carry the ball in the fourth quarter and still rushed for 181 yards and four touchdowns and had 76 receiving yards in the game of his career.
¢ James Holt blitzed effectively, played well in pass coverage and flew all over the field making sure tackles.
¢ Russell Brorsen intercepted two passes from the defensive end position.
Candidate for Gassers
¢ The KU students who left at halftime, and there were plenty of them.
Copyright 2018 The Lawrence Journal-World. All rights reserved. This material may not be published, broadcast, rewritten or redistributed. We strive to uphold our values for every story published.