Photo Gallery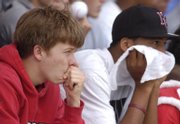 LHS baseball vs. Blue Valley
The Lawrence High baseball team's run at the Class 6A state baseball tournament came to an end Saturday, in the form of a 2-0 loss to No. 5 seed Blue Valley. But at least the Lions played a little longer than they could have.
Saturday's semifinal originally was scheduled to begin at 10 a.m. but was pushed back to 2 p.m. because of a lightning strike that hit the Hummer Sports Complex concession stand in the early hours of Saturday morning.
After considering their options and working on the rain-soaked field, tourney officials made the call to play the game at Hummer. The Lions and Tigers played with no scoreboard, no concession stand, no nearby restrooms and a public address system powered by a generator.
On the field, things weren't much better for the Lions.
LHS managed just three hits and struck out nine times against Blue Valley's Tyler VanGerpen. Lions' junior Dorian Green did his best to keep his team in the game, scattering five hits and six strikeouts over six innings of work.
Blue Valley scored first in the bottom of the third when J.P. LaMunyon drove in Brian Peck to give the Tigers a 1-0 lead. BVHS tacked on an insurance run in the sixth when Nate Kerkhoff roped an RBI double to right.
The Lions staged one final charge when senior Travis Sanders walked to leadoff the seventh and senior Joe Kornbrust followed with a single to give LHS runners at first and third with no outs. But VanGerpen struck out the next three Lions to slam the door.
Kornbrust finished 2-for-3 for LHS (12-11), and Sanders walked three times.
"Sanders wasn't going back to the dugout," LHS coach Brad Stoll said. "And I would've put money on Joe getting a hit there. Their kid pitched great, though, and we didn't make adjustments."
Blue Valley will play for the state title Sunday.
For more on the game, see Sunday's Journal-World.
Copyright 2018 The Lawrence Journal-World. All rights reserved. This material may not be published, broadcast, rewritten or redistributed. We strive to uphold our values for every story published.