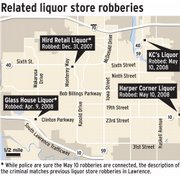 Mandy Isaacs was stocking pints and half pints of liquor on a shelf behind the front counter of Harper Corner Liquor on Saturday night when she was caught off-guard.
"The door opens and a half second later, I just heard, 'Give me the money,'" said Isaacs, manager of the store at 2220 Harper St. "I turned around and it was just a guy in all black with a gun."
As she stared down the gun's barrel, Isaacs said she immediately opened the store's two cash register drawers, emptied them into a paper sack and handed it over to the robber.
"I gave him what he wanted and he was in and out pretty quick," said Isaacs, 32.
When the robber left, Isaacs looked outside as he headed north down the street. She said she made eye contact with him through the glass as she went to push the panic button.
About an hour later, the same suspect held up an employee of K.C.'s Liquor, 1805 W. Second St., police said.
A 23-year-old clerk was stocking beer in a cooler near the door of the store about 10:45 p.m. Saturday when the suspect came inside, pointed a gun at the clerk and demanded money, said Keith Kielman, K.C.'s Liquor owner.
The robberies were the latest in a series of liquor store robberies in Lawrence since New Year's Eve, the night Hird Retail Liquor, 601 Kasold Drive, and Glass House Liquor, 2301 Wakarusa Drive, were held up. Glass House also was robbed April 9.
While police haven't officially connected last weekend's robberies with the rest, Lawrence Police Sgt. Paul Fellers said there are similarities among them.
"Certainly the common thread is the display of a weapon. In each case a weapon was displayed," Fellers said.
In last weekend's robberies, police are looking for a black man, between 5-foot-10 and 6 feet tall, who weighed about 200 pounds. He was wearing a black bandana over his face, a black cap and a black hooded sweatshirt.
Fellers said anyone with information on the crimes should contact detectives at 843-TIPS.
"I would hope that somebody in the community would step forward and say, 'Here's the guy doing it,'" Kielman said. "Obviously if it's the same person : somebody knows and it kind of needs to stop."
Copyright 2017 The Lawrence Journal-World. All rights reserved. This material may not be published, broadcast, rewritten or redistributed. We strive to uphold our values for every story published.