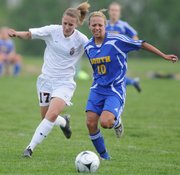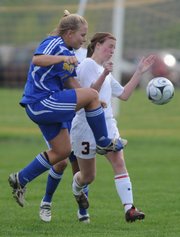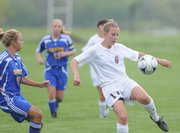 Lawrence High girls soccer coach Matt Anderson certainly reached back in time to describe his team's play of late. He compared them to the classic tale of Dr. Jekyll and Mr. Hyde.
Saturday, the evil alter-ego, Mr. Hyde, made an appearance in a six-goal loss for LHS.
Monday against Olathe South, the good doctor finally came to play. It didn't result in a victory over the powerhouse Falcons, but Anderson said he was more than pleased with the Lions' 2-0 defeat at Youth Sports, Inc.
"Today, I simply needed them to respond," Anderson said. "And I think they all answered the call, from the back line to the midfield and the strikers."
Olathe South continued its march through the Sunflower League, improving to 13-3 overall and 9-1 in conference play. But it was much tougher than the Falcons likely figured.
"They were dancing before the game and just expecting a huge win," LHS senior Madison Bertrand said. "We don't allow that anymore. We don't want to give them that satisfaction of killing us. We played a lot better."
It took 19 minutes for the Falcons to strike first. Lions goalkeeper Emma Lumpe's clearance from the penalty area was claimed by South's Kaitlynn Pelger, who dribbled through two LHS defenders and buried a low ball into the right side of the net.
Rather than collapse, however, Lawrence mounted its most serious threat two minutes later. Freshman Marley Sutter received a cross into the box from Olivia Dykes just in front of goal. Sutter collected the ball, but smacked it off the right goalpost.
"That would have made it 1-1. And who knows what happens when it's 1-1, and (the Falcons) have all the pressure on them," Anderson said. "As the girls know, I don't just blow smoke. Two runs away from keeping these guys shut out is pretty impressive."
Olathe South put the game away five minutes after halftime with that second goal. Karen McLane to put her team ahead, 2-0, with a header in the box.
It was one of very few breakdowns for LHS.
"Today, we had good spacing, and our defense was on top of everything," Sutter said. "We had good passes, but I just think they had a lot more shots on goal."
The Lions (5-9, 1-8) remain at home today to take on Shawnee Mission South, with regionals looming next week.
Copyright 2018 The Lawrence Journal-World. All rights reserved. This material may not be published, broadcast, rewritten or redistributed. We strive to uphold our values for every story published.