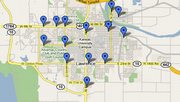 Here are locations for dropping off recycling in Lawrence, according to the city's division of waste reduction and recycling.
Properly recycling trash is almost a science, and Douglas County employees are finding that out.
On Thursday, recycling bins were placed throughout the county courthouse, 1100 Mass., and in the adjacent Judicial & Law Enforcement Center. Instead of tossing trash in the nearest container, employees now are thinking about which container to use.
"This is such a behavioral change," said Jenny Hesseltine, a Kansas University management intern in the county administrator's office. "This is saying we're going to ask you to put your soda can in one bin and your water bottle in another."
And your pieces of cardboard in another, and your newspaper in another, and so on.
The recycling effort begins after several weeks of study and discussion by Hesseltine and a committee of department heads and employees. Implementation of the recycling program involved details such as what kind of bins, how many and where they will be placed. Different offices have different recyclable materials. Tall, slender bins are more appropriate in some offices than short, wider, stackable bins, Hesseltine said.
The district attorney's office was the guinea pig for the recycling effort. Bins were placed there about four weeks ago. Among the key things learned was that paper punches needed to be placed in a container with a liner in it so that they wouldn't "fly all over the place" when they were dumped, Hesseltine said. But the recycling has gone well, she said.
"It's been very successful," Hesseltine said about the trial run in the district attorney's office.
The county also arranged a contract with Community Living Opportunities, a nonprofit organization that works with youths who have severe and multiple disabilities. Newspapers, chip board, plastics, aluminum and steel will be picked up by CLO. And a partnership was worked out with the city of Lawrence to provide recycling of office paper and cardboard.
The county plans to eventually expand the recycling program to the public works department buildings and satellite offices.
Copyright 2018 The Lawrence Journal-World. All rights reserved. This material may not be published, broadcast, rewritten or redistributed. We strive to uphold our values for every story published.