Photo Gallery

KU vs. Davidson Press Conference
2008 NCAA Tournament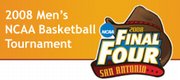 Get your March Madness fix at KUSports.com.
Detroit — Stop it.
Stop talking about the secret to containing Davidson College basketball phenom Stephen Curry. Stop thinking that it's just a nice little hot stretch in this NCAA Tournament that can be extinguished with good athleticism and good focus on defense.
It's not like that. Curry's not a flash in the fire. He has averaged 25.9 points per game this year, dropping 24 on North Carolina, 20 on Duke and 29 on North Carolina State early in the season.
Curry has done this for a lot more than three games. And it's safe to assume he'll get his points again today, when Kansas University (34-3) meets Davidson (29-6) at 4:05 p.m. at Ford Field.
Winner goes to the Final Four.
"The biggest thing is, whoever's guarding Curry : has to be locked in," KU coach Bill Self said. "You can't relax, because as soon as you relax, he makes you pay."
Self, as expected, wasn't completely open about who will get the assignment of guarding Curry. KU senior Russell Robinson hinted it primarily would be him, though the Jayhawks expect to switch frequently, too.
Either way, it's a monster task - even if Curry looks completely innocent.
At 6-foot-3 and 185 pounds, Curry has a baby face and a pleasant personality. He was a stringbean in high school (and still is to an extent), which made every ACC school turn away during recruitment.
But he had two things that big-college coaches didn't give him enough credit for: a sensational jump shot, and a great feel for the game since he's the son of longtime NBA sharpshooter Dell Curry.
"Naturally, I watched and learned things from him first-hand, just being in the gym, one-on-one teaching and stuff like that," Stephen Curry said. "Genes help."
Curry grew up in Charlotte, N.C., just 20 minutes south of Davidson. With the big schools saying no thanks - Virginia Tech offered a walk-on spot with a scholarship chance down the road - Curry stayed close to home and started dazzling the small community.
Still, it went largely unnoticed until Curry dropped 40 on Gonzaga last weekend in the NCAA Tournament's first round. He followed it up with 30 against Georgetown, then 33 in Friday's victory over Wisconsin. His teammates now call him "Primetime" because of the loads of media attention he's getting.
One television reporter summed it perfectly, asking Curry: "Stephen, is there anyone who can guard you? What's going on with that?"
Well, here's the long answer:
¢ Curry can shoot, and he isn't afraid of pulling up well behind the three-point line if he has a good look. He has drilled 19 of 36 three-point attempts in the NCAA Tournament and is a 45-percent three-point shooter on the season.
¢ He knows where he will be open on the floor. The cut against Wisconsin, when he went up-and-under, drew the foul and landed on SportsCenter, is a classic example.
¢ Curry plays with an outstanding point guard, senior Jason Richards, who averages 12.9 points and 8.1 assists per game. Richards had 13 assists and no turnovers against Wisconsin, and a distributor like that will find Curry where he needs to be found.
"He gets a lot of assists," Robinson said, "so you take him out, then half the job on Curry is done."
¢ Davidson uses lots of ball screens to get Curry open. Lots.
"I haven't shown much of a one-on-one skill-game kind of thing, because that's not what we need here at Davidson," Curry said, "That's not in our system."
Kansas is on high alert for Curry's ability to engineer an upset. Robinson said it would take a team effort defensively to keep Curry handcuffed. Rush thinks his 6-foot-6 frame can keep Curry from shooting over him when the two are matched up.
"I'll try to use my length," Rush said.
Surely, he's not the first to try. Curry called UCLA's Russell Westbrook the toughest defender he has faced this season, and the scoring reflects that. Curry was held to just 15 points in that game.
On the flip side, he has scored 35-plus points six times this year, including a career-high 41 against North Carolina-Greensboro on Feb. 13.
Back then, not enough people knew the story of Stephen Curry. But suddenly, the scrawny kid too small for the ACC has become larger than life.
Kansas, the big bad giant, gets the unpopular role of trying to take out the NCAA Tournament's new prince.
"He's going to have," Robinson said, "the whole country behind him."
Copyright 2018 The Lawrence Journal-World. All rights reserved. This material may not be published, broadcast, rewritten or redistributed. We strive to uphold our values for every story published.