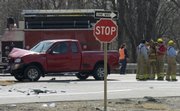 A fatality accident claimed the life of a Bonner Springs High School student late this morning at the intersection of Kansas Highway 32 and the exit for northbound Kansas Highway 7.
At 11:12 a.m., the Kansas Highway Patrol was called to an accident involving a 2002 Nissan passenger car and a 1997 Ford pickup truck.
Mark Holmes, 18, who was in the Nissan's passenger seat, died in the accident. Daniel Perkins, 17, a second passenger, sitting in the back seat, sustained life-threatening injuries and was transported by helicopter to Overland Park Regional Hospital. The driver, Chad Way, had injuries that were not life-threatening and was taken to University of Kansas Hospital.
The Nissan was heading east on Kansas Highway 32, turning left to the northbound exit for K-7, when the pickup truck hit it.
None of the occupants was wearing seat belts.
The driver of the truck, Daniel Hernandez, 40, was injured and taken to Providence Hospital in Kansas City, Kan. He was wearing a seat belt at the time of the accident.
An announcement was made at Bonner Springs High School about the accident and advising students that counseling was available.
Copyright 2018 The Lawrence Journal-World. All rights reserved. This material may not be published, broadcast, rewritten or redistributed. We strive to uphold our values for every story published.