2008 NCAA Tournament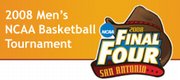 Get your March Madness fix at KUSports.com.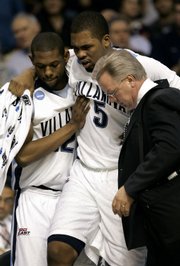 Villanova's basketball team has just one player who can match the size of Kansas University's biggest players.
Here's the problem: That player, sophomore Casiem Drummond, is staying in Philadelphia this weekend with a cast around his right ankle and a surgically inserted screw keeping the bone together.
Drummond broke his ankle in the first half of last weekend's NCAA Tournament second-round game against Siena. He won't be at Ford Field on Friday, when 12th-seeded Villanova (22-12) meets top-seeded Kansas (33-3) in a Midwest Regional semifinal.
"Cas was a great player, and he can come in at any time and give you a break in the inside," Villanova forward Dante Cunningham said. "It definitely changes things."
Drummond's loss means Cunningham and two of his teammates are the Wildcats' tallest available players - at 6-foot-8. Cunningham will start Friday, as will 6-8 freshman Antonio Pena.
A third 6-8 player, seldom-used Frank Tchuisi, could play more than usual against the Jayhawks out of necessity.
"We faced big men all the time in the Big East," Cunningham said. "Most of the big men are 6-10 and above. We usually take that as a challenge."
Truth be told, Villanova is used to playing without Drummond. The 6-10 bruiser started the season strong, averaging 7.9 points and 8.6 boards in his first seven games, including a 17-rebound effort against North Carolina State.
A stress fracture then developed in his right ankle and rendered him useless for five weeks. He returned with less-sparking numbers, then went to the shelf again with more ankle problems Feb. 23.
Since then, Drummond has played a total of 24 minutes in five games. Cruelly, he broke that same pesky ankle against Siena, an injury completely unrelated to what troubled him all season.
Surgery was performed Tuesday in Philadelphia, and he was unable to make the trip to Detroit because of his recovery.
"I'd definitely rather have him," Villanova coach Jay Wright said. "I want to be honest with that. He'd be very helpful with the size of the Jayhawks.
"But we've played without him during the season before. We've just got to play a little differently."
Cunningham mentioned the possibility of Villanova playing more zone defense, which undoubtedly will have KU's three-point shooters salivating. Either way, the Jayhawks' balance could expose Villanova's size problem on Friday - much like height-challenged Nevada-Las Vegas last week in Omaha, Neb.
Villanova is a guard-strong team led by Scottie Reynolds (16.7 points per game). Cunningham, a junior forward, averages 10.4 points and 6.4 rebounds per game, and it's a must that he avoid foul trouble against KU.
Not only will Drummond's big body be unavailable, but so will his five fouls, an often-needed token of depth when going against the likes of KU's Darrell Arthur, Darnell Jackson and Sasha Kaun.
"We'd rather have him," Wright said of Drummond. "I don't want to say anything less than that."
Copyright 2018 The Lawrence Journal-World. All rights reserved. This material may not be published, broadcast, rewritten or redistributed. We strive to uphold our values for every story published.