2008 NCAA Tournament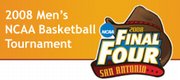 Get your March Madness fix at KUSports.com.
Kansas University's basketball players who answered 7 to 7:15 a.m. wake-up calls on Game Day last Thursday in Omaha, Neb., will be allowed to sleep much later Friday in Detroit.
"We will try to keep them in bed as long as we can," KU coach Bill Self said Monday.
This week, he must figure out the best way to handle a 9:40 p.m. (Detroit time; 8:40 CDT) tipoff for the Jayhawks' Sweet 16 battle against Villanova at Ford Field.
On Thursday, KU opened the tournament with an unusually early 11:25 a.m. game against Portland State.
"It is a ridiculous time to play. At the same time, we realize television dictates everything," Self said of the late-night tipoff. "If we are fortunate enough to win, we'd then play Sunday in an early-afternoon or mid-afternoon game (not yet determined).
"It's not just at our region. It's that way at all regions. We play games at all times of the day during the year in large part as preparation for the NCAA Tournament. We have never started one at 10 o'clock, though," Self noted.
The Jayhawks were sharp in downing Portland State, 85-61, in their late-morning meeting with the Vikings.
KU also beat Boston College, 85-60, in an 11 a.m. game in Massachusetts and stopped USC in an 11 a.m. game in California. The latest the Jayhawks have tipped this year is 8 p.m., winning against Nebraska, Oklahoma, Missouri, Kansas State and Texas Tech, and losing at Texas.
Copyright 2018 The Lawrence Journal-World. All rights reserved. This material may not be published, broadcast, rewritten or redistributed. We strive to uphold our values for every story published.