2008 NCAA Tournament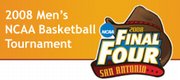 Get your March Madness fix at KUSports.com.
Stewart, Collins healing
KU senior Rodrick Stewart, who missed Saturday's game against UNLV game because of tonsillitis, attended practice Monday, but did not take part in drills. Sophomore Sherron Collins did not attend practice, but not because of his bruised left knee. He was under the weather.
"Rod did not practice today, although I think he's fine," KU coach Bill Self said. "Sherron caught a little bit of a 'quick bug' and did not practice today, but he'll be ready tomorrow. Everybody else is fine."
Nova center out
Villanova reserve center Casiem Drummond, who was injured in Sunday's victory over Siena, is finished for the season. Drummond, who has a fracture of the right ankle, will undergo surgery today to have a screw inserted in the ankle.
Self on Fox Sports
Self had his first light media day in a while Monday. He appeared on Fox Sports' Game Time Live radio show with Andrew Siciliano. Self was asked about the fact KU enters Friday's game as a No. 1 seed; Villanova a 12.
"If you are (Villanova coach) Jay (Wright), you could say, 'We are a 12-seed, we have nothing to lose.' I have watched enough tape. They are not a 12-seed," Self said. "They didn't play like that the first weekend. They are capable of beating anybody. They lost several heartbreakers in the league (Big East), including one to Georgetown (55-53 on Feb. 11) on the road on a call late.
"The last time we played Villanova we went to Philadelphia and got embarrassed," Self added. KU lost to 'Nova, 83-62, on Jan. 22, 2005 in Philly. "Our guys remember that, at least those who were around then."
Ford credits Wright
Philadelphia Inquirer columnist Bob Ford credited Wright for believing the Wildcats would become a good team.
"March is when Scottie Reynolds has completed his graduate degree in point guard," Ford wrote in Monday's editions. "It is when freshmen Corey Fisher and Corey Stokes have finally blended into the smooth grain of the team. It is when the overlooked big men have become a cohesive front line, a steady thump of bass notes to complement the crashing cymbals of the guards.
"Villanova, perhaps a little late in the season, or perhaps a season sooner than expected, is a good basketball team, just as Wright promised. Not a great basketball team yet. Maybe that plateau is still to come for this group. But it is a good team that can slice you up if you're not careful."
Copyright 2018 The Lawrence Journal-World. All rights reserved. This material may not be published, broadcast, rewritten or redistributed. We strive to uphold our values for every story published.