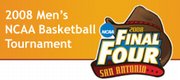 Get your March Madness fix at KUSports.com.
Twenty years ago, Kansas University's men's basketball team won the 1988 national title, starting its run with two games in Nebraska and two in Detroit before the Final Four.
If the two-decade championship funk will be broken this year, it will take the same path.
This year's Jayhawks are heading to Omaha, Neb., for the first and second rounds of the NCAA Tournament. Kansas secured the No. 1 seed in the Midwest and will play 16th-seeded Portland State at 11:25 a.m. Thursday.
If the Jayhawks can win two games in Omaha, they'll head to Detroit for two more. Win those and they'll go to the Final Four in San Antonio - eerily similar to the Danny Manning-led title team, which won two in Lincoln, Neb., before heading to Michigan.
"Different venues, but yeah, it went through Nebraska and then it went through Detroit," KU coach Bill Self said Sunday. "We've actually told our team about that."
First things first: a three-hour trek up Interstate 29 to Omaha. A flock of KU fans surely will follow the team north, but it's probably a good idea for those travelers to have their tickets already taken care of. There's no official way of getting any now.
The 17,560-seat Qwest Center has been sold out for some time. That's mostly because tickets were first offered to Creighton University season-ticket holders, who gobbled up all they could about a year ago.
Kansas - and the other seven schools playing in Omaha - received 350 tickets to pass out to fans. But as expected, associate athletic director Jim Marchiony said, all of KU's allotment is accounted for. The best bet to get in the Qwest Center now is through a ticket broker or scalper on the street.
Dozens of tickets were available online Sunday at eBay.com, StubHub.com and Craigslist.org. But be prepared to pay a hefty price - especially because Kansas State, a nearby school with a rabid fan base, is playing in Omaha as well.
"I'm sure we will have all the Wildcat faithful cheering for us," Self joked. "We should make a pact - we'll cheer for them if they cheer for us."
For those of you already clutching a magic ticket - or those who just want to be around the action - Omaha has plenty to offer on the entertainment front when basketball isn't being played.
There are casinos just across the Missouri River in Council Bluffs, Iowa. There is a popular restaurant and entertainment district dubbed "The Old Market" just down the road from Qwest Center in downtown. The KU Alumni Association will have events lined up and will finalize those plans as early as today.
Omaha expects to be buzzing this week, with an atmosphere not unlike the one surrounding the College World Series baseball tournament played there every June. Omaha, a college sports hotbed, hasn't played host to NCAA Tournament action in basketball since 1977.
This week's events also could be the brightest spotlight yet on the Qwest Center, Omaha's sports facility jewel that opened in 2003. The arena has played host to several high-profile concerts and currently is home to Creighton's basketball team.
"I hear it's a fabulous, fabulous arena," Self said.
Lucky Kansas fans soon will see for themselves.
Copyright 2018 The Lawrence Journal-World. All rights reserved. This material may not be published, broadcast, rewritten or redistributed. We strive to uphold our values for every story published.