2008 Big 12 Tournament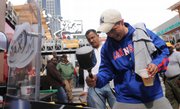 Kansas City, Mo. — It's about time.
This precisely is what a vibrant downtown begins to look like. The first day of the Big 12 men's basketball tournament was being played next door at the Sprint Center, and basketball fans not inside were enjoying the mild weather Thursday and hanging out in the new Power & Light District just west of the arena.
It's a party that will continue to get more crowded as nearby schools Kansas University and Kansas State University play tonight in the quarterfinals, surely bringing a bulging fan base with them.
"So far, so good," David Tischinski said of the atmosphere, while he was wearing a KU jacket and holding a beer. "It's nice to be able to go somewhere in-between games."
Tischinski was out and about even though the Jayhawks don't play until 6 p.m. today. He was among hundreds of KU fans who were soaking in the tournament's first day and enjoying all that surrounds it.
Kansas City is making sure there's plenty to do. After the Big 12 tournament left for places like Dallas and Oklahoma City in recent years, the city realized that serious upgrades needed to be done to make it a destination for such events - particularly in a stale, sometimes rough downtown.
First up was the Sprint Center, a state-of-the-art arena on the south side of downtown that opened last fall. Sharing the same block is the College Basketball Experience, an interactive home to the National Collegiate Basketball Hall of Fame.
Next was the Power & Light District, a nine-block entertainment destination featuring restaurants, bars and attractions.
As of now, the district is only about half full, and several eating and drinking establishments just opened about a week ago. But the first impressions by customers was positive.
"I think it's awesome," said Kyle Andrews, a KU fan from Lee's Summit, Mo. "I never really came down here before. There was never much to do."
Andrews was relaxing in the district's centerpiece, called KC Live!, just across the street from the Sprint Center. It's an open-air courtyard surrounded by restaurants and bars with an awning overhead, protecting patrons from the rain.
A giant video board in KC Live! showed Thursday's games throughout the day for those without tickets. A stage was just under the video board, which will be used for small concerts in the summer. One is scheduled tonight after the KU game featuring Sister Hazel (Drawing a blank? Search "All For You" on iTunes).
Other fan-friendly events surround the Sprint Center, including a KU pep rally at 4:45 p.m. today in the parking lot at the intersection of Grand and Truman.
The downtown's rejuvenation isn't close to being finished. The Power & Light District expects to be filled with tenants by the time the Big 12 tournament returns to Kansas City in 2010, after going back to Oklahoma City next year.
But it already is well on its way, and basketball fans making the journey to downtown this weekend surely will notice.
"Growing up in KC, downtown was somewhere you never went after 5 p.m.," Tischinski said. "But this is nice."
Copyright 2018 The Lawrence Journal-World. All rights reserved. This material may not be published, broadcast, rewritten or redistributed. We strive to uphold our values for every story published.