Photo Gallery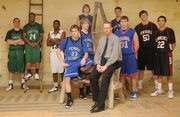 2008 All-Area Boys Basketball
2008 All-Area Boys Basketball
Weston Wiebe, Sr., Forward Free State High
The Firebirds' 6-foot-4 forward was among the leaders in the Sunflower League all season, finishing with per-game averages of 18.9 points and 8.7 rebounds. His leadership and consistency led FSHS to a 13-7 regular-season record, including a berth in the championship game of the McPherson Invitational. Wiebe also shot 63 percent from the field.
Kris Wilson, Sr., Guard Free State High
Wilson was one of the most pleasant surprises for the Firebirds this season. In addition to holding up his end of the bargain to form the team's dynamic 1-2 punch (with Wiebe), Wilson became a true floor general for Chuck Law's team. He finished the season averaging 14.6 points per game and five assists per game while shooting 73 percent from the free-throw line.
Dorian Green, Jr., Guard Lawrence High
Green entered his junior season with high expectations. For the most part, he did not disappoint. The Lions' point guard was among the team leaders in points, rebounds, steals and assists while leading LHS to the title game of the state tournament. Green was at his best down the stretch, taking over and providing LHS with a go-to guy that most teams feared.
John Schneider, Sr., Center Lawrence High
Schneider showed flashes of big things during his junior campaign. But on a team saturated with seniors, his ability barely came through. As a senior, the 6-foot-7 center was dominant at times. He averaged double digits in points and had several big rebounding games, as well. When he wanted to be, was the best big man in the Sunflower League.
Drew Berg, Sr., Forward Baldwin High
Berg was the leading scorer and rebounder for a team that finished the regular season with a 16-4 record and a No. 1 seed at sub-state. His 15.1 points and 6.6 rebounds per game put him among the leaders in the area. He also shot 83 percent from the free-throw line.
Dustin Schiller, Sr., Guard Baldwin High
Schiller's numbers were not a fair representation of what he meant to his team. He averaged just 3.9 points per game but chipped in with 6.6 assists and 3.3 steals per contest. Known for his on-the-ball defense and unselfish nature, Schiller led the Bulldogs in charges taken. In addition, he guided BHS to the most wins (16) since 1992 and a second-straight BHS tournament title - the first such achievement in school history.
Shane Gimzo, Jr., Guard Perry-Lecompton High
Gimzo enjoyed a breakthrough season in 2007-08. He averaged a steady 12 points and 6 rebounds a game and added three steals per contest, as well. In addition, he became a serious threat from the outside, knocking down 35 three-pointers during the Kaws' 19-3 season.
Kyle Morgison, Jr., Guard Perry-Lecompton High
During his third season as a starter, Morgison had another stellar year. He averaged 11.7 points and five assists per game and chipped in three steals per contest in the process.
As the team's point guard, he led the Kaws to their best record in 27 years, helped snap a 21-game losing strike to league rival K.C. Piper and picked up the team's first sub-state victory since 1996.
Brock McGinnis, Sr., Forward Oskaloosa High
McGinnis put the finishing touches on a stellar four-year career by finishing the 2007-08 season with per-game averages of 14 points and five rebounds. For his career, the 6-foot forward leaves the Bears program with 886 points.
In addition to scoring the way he always had done, this season he did his damage from the free-throw line (72 percent) and behind the arc (34 three-pointers).
Andre Linzy, Sr., Forward, De Soto High
Linzy was one of the most complete players in the area, and it showed on the stat sheet. His 17.7 points-per-game average was near the top of the list in the area. He added 6.3 rebounds per game and totaled 16 blocks on the season, as well. In addition to those numbers, Linzy swiped 53 steals for the Wildcats, showing a well rounded defensive game, as well.
Honorable Mention
Brandon Tommer, Jr., Baldwin High; Gabe Belobrajdic, Sr., Tonganoxie High; Dylan Rust, Sr., Eudora High; Justin Ballock, Soph., Eudora High; Chase Tenpenny, Jr., Oskaloosa High; J.T. Thurston, Jr., Oskaloosa High; Joel Gantz, Jr., Perry-Lecompton High; Craig Rosenstengle, Sr., Free State High; Jake Miller, Jr., Free State High; Lance Kilburn, Jr., Lawrence High.
Copyright 2018 The Lawrence Journal-World. All rights reserved. This material may not be published, broadcast, rewritten or redistributed. We strive to uphold our values for every story published.