Photo Gallery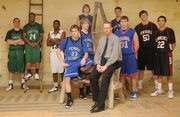 2008 All-Area Boys Basketball
2008 All-Area Boys Basketball
Weston Wiebe's senior year didn't end up the way he hoped.
Instead of a return trip to the Class 6A state tournament, and possibly another serious run at a state title, Wiebe and the Firebirds bowed out in the first round, the upset victims of a red-hot Olathe North squad.
That night, as Wiebe emerged from the FSHS locker room more than 30 minutes after his last teammate, it became clear the rest of Wiebe's three-year career with Free State went exactly as planned.
"We've had a great two, three years," Wiebe said. "My three years here have been amazing."
None of them was better than his final season in green and white. Wiebe led a relatively inexperienced Firebirds team to a 13-7 regular-season record, a third-place finish in the Sunflower League, a berth in the championship game at the McPherson Invitational and a No. 3 seed at sub-state.
"We accomplished a lot this year," Wiebe said. "We had a lot of big wins and a lot of stuff to be happy about."
In many cases, Wiebe was the player solely responsible for such feats.
The 6-foot-4 forward finished the season with the kind of numbers that give him a legitimate claim to the title of "Best player in school history." As a senior, he averaged 18.7 points per contest, 8.9 rebounds per game and shot 63 percent from the floor. All three were Free State single-season records. All three took their roots from a stellar finish to a strong junior season.
"I think I really started to step up my game at the end of last year," Wiebe said. "That set the tone for how I was going to be this year, and I just tried to carry over that finish into this season."
It wasn't just his statistical output that made Wiebe a remarkable player. From the opening day of the season to the final buzzer of sub-state, he put the Firebirds on his back and led them night after night.
"Coach talked to me about having to step up, and I think that's what I'm most proud of this season," Wiebe said. "All the numbers were nice, but I was most impressed by my ability to step up for the team."
Wiebe led the Firebirds in points on most nights, scoring double figures in every game but one. In his final game as a Firebird, he used his heart and ability to pour in 27 points and nearly rescue Free State from a huge hole in the process.
In addition to being one of the best players on the floor on any given night, Wiebe was also a tremendous teammate. All season, his fellow Firebirds raved about how easy he was to play with, how much better he made them and how much they enjoyed playing hard because of the example set by their senior leader.
"No matter how long I last in this gig, I'm not sure I'll ever have the opportunity to coach a better kid," FSHS coach Chuck Law said. "He's a special kid and a special player."
Copyright 2018 The Lawrence Journal-World. All rights reserved. This material may not be published, broadcast, rewritten or redistributed. We strive to uphold our values for every story published.