Photo Gallery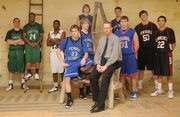 2008 All-Area Boys Basketball
2008 All-Area Boys Basketball
Before Jeff Dickson arrived at Perry-Lecompton High, the boys basketball team knew how to do one thing well - lose.
Whether that came in the form of consecutive losses to archrivals, last-place finishes in the Kaw Valley League or, the worst, finding a way to come up short despite being long on talent, the Kaws had made losing an art form.
But along came Dickson and, slowly, the futility began to disappear.
During his first season with the Kaws, Dickson's team finished just 5-16, but things began to change. Thanks to a core group of freshmen who worked hard and liked it, Perry-Lecompton finally had an identity.
This season, thanks in large part to that same group of freshmen - now juniors - Dickson guided the Kaws to a 19-3 record, falling one game shy of reaching the state tournament.
"The way things used to be, guys picked up a basketball on November 15, and the day the season was over they put the ball down and didn't think about it until the next season," Dickson said. "We've changed that culture, and a lot of the credit goes to the kids."
Given a roster of solid, but not spectacular, talent, Dickson and the Kaws latched onto several key cornerstones to make the season memorable. Hard work, unselfish play and a focus on doing things the right way - not winning or losing - led Perry-Lecompton to a 7-0 start before suffering its first loss. After that hard-fought setback to Tonganoxie, the Kaws rattled off another 11 in a row to reach 18-1 before losing two of their final three.
"I wouldn't classify this as the best group of basketball players they've had here in the past 12 years or so," Dickson said. "It's probably fourth or fifth. But they've put the work in and have really taken on the identity of our blue-collar, rural community. The guys just put their hard hats on and went to work every night."
Copyright 2018 The Lawrence Journal-World. All rights reserved. This material may not be published, broadcast, rewritten or redistributed. We strive to uphold our values for every story published.