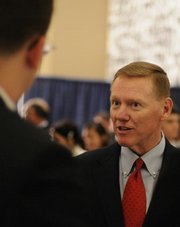 It was as a member of Kansas University's Kappa Sigma fraternity that Alan Mulally saw his first income statement and balance sheet.
"A lot of what I learned here and the values of Kansas and KU I've carried with me throughout my career," the Ford Motor Co. chief executive said Saturday as he stood in the fraternity house that he lived in during the 1960s.
Mulally returned to his hometown to receive the 2007 Kappa Sigma Man of the Year award. He joins such Kansas graduates as former Chrysler chairman Robert Eaton and former Kansas Sen. Robert Dole in receiving the honor.
"The chapter prides itself on having successful undergraduates who turn into successful alumni," said Cory Sims, a KU senior and public relations chairman for the fraternity.
Mulally and Eaton participated in several events with alumni and students Saturday. Both said their early experiences helped shape their careers.
"I think the fraternity and the university prepared me both academically and socially to move on in the world," Eaton said.
Mulally's visit came on the heels of news reports about his compensation. A Reuters report said Ford awarded Mulally restricted stock worth $4.1 million and 3.56 million stock options. The company also will give bonus checks of at least $1,000 to all hourly and salaried employees. The company lost $2.7 billion in 2007.
Mulally said Ford made great strides in improving quality and productivity and in getting the company back to profitability.
"All of our compensation is essentially tied to performance, so when we perform against the plan and help make a more exciting, more viable Ford, then we want to make sure that everybody participates," he said. "This is probably the hardest work that we're ever going to do to get Ford going again."
The strained U.S. economy poses a challenge for Ford, Mulally said, but he voiced general optimism about the company.
"We're growing, and we're profitable all around the world," he said. "The only issue we have right now is to bring in more smaller vehicles in the United States that are efficient to complement our 33 years of leadership in trucks and big SUVs."
Mulally joined Ford in 2006 after nearly four decades at Boeing Co. He said he has not spoken with his former Boeing colleagues about that company's woes in the wake of the unsuccessful bid for a $40 billion contract to build military refueling planes for the U.S. Air Force.
"I can't imagine how they could lose because they've got absolutely the best airplane, and they've got a great track record of supporting the U.S. government," he said.
Students viewed Mulally's and Eaton's visits as an opportunity to rub elbows with important people.
"I think it's the greatest event that I've ever had the opportunity to be a part of," said Bobby Lutz, a junior and the fraternity's current president. "I think it's definitely the best opportunity any guy in the house has had since being here to meet some notable alumni and big names as well."
Mulally said the fraternity has changed since his years as rush chairman and fraternity president.
"It looks a lot nicer," he said. "It looks really neat."
Copyright 2018 The Lawrence Journal-World. All rights reserved. This material may not be published, broadcast, rewritten or redistributed. We strive to uphold our values for every story published.