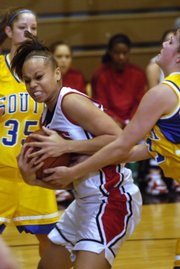 Lawrence High's girls basketball team advanced to the Class 6A state championship Friday afternoon with a 62-51 victory over Olathe South.
The Lions shot out to a 13-0 lead and never looked back, handing the Falcons just their third loss of the season (21-3).
LHS senior Danielle Bird led the Lions with 20 points. Tania Jackson registered a double-double with 14 points and 13 rebounds. Taylor Bird scored 13 points, and Cassie Potter added 11.
The Lions (20-4) will play the winner of the Goddard vs. Wichita Heights game on Saturday at 4 p.m.
Copyright 2018 The Lawrence Journal-World. All rights reserved. This material may not be published, broadcast, rewritten or redistributed. We strive to uphold our values for every story published.