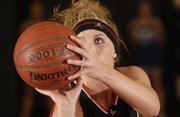 Double the fun
Lawrence High's boys and girls basketball teams both qualified for the Class 6A state tourney in Emporia this week. The girls will tip things off at 3 p.m. Wednesday against Blue Valley, and the boys will get going at 6:30 p.m. Thursday. Winners will advance to Friday.
With 22 games in its immediate past, the Lawrence High girls basketball team will take one advantage with it to state this week.
When the top eight Class 6A girls teams from throughout Kansas collide in Emporia, the Lions (18-4) will arrive with the knowledge and comfort that they've faced four of the other seven teams in the bracket - including Blue Valley, their first opponent.
Their record in those four games: 2-2.
Although the crazy coincidence doesn't mean much in terms of the Lions' chances at state, LHS coach Kristin Mallory said she thought it emphasized the value of what her team accomplished this season. Also this season, Lawrence High faced, and defeated, Overland Park Aquinas, a member of the Class 5A state tourney.
"I felt like all along we played a tough schedule," Mallory said. "And looking back, early on we won some really big games, and we might not have realized quite how big they were at the time."
LHS knocked off Washburn Rural (19-3, No. 5 seed), 38-29, in December to open the season. Sophomore guard Haley Parker led the way with 12 points, and sisters Danielle and Taylor Bird chipped in eight points apiece.
A little more than a month later, the Lions welcomed Olathe South (20-2, No. 3 seed) to town for a Sunflower League showdown. Coming off their first loss of the season - a home setback to Shawnee Mission East - the Lions rode the energy of junior forward Tania Jackson for a 63-56 victory.
Parker once again led the way on offense, scoring 16 points in the victory. Jackson added 12 points, and sophomore guard Cassie Potter scored nine to help LHS improve to 8-1 at the time.
While the first two meetings with eventual state qualifiers fell in the Lions' favor, the next two weren't as pleasant.
LHS fell to Blue Valley (21-1, No. 2 seed) in the championship game of the Topeka Invitational Tournament in January and lost a road game at Shawnee Mission West (16-6, No. 8 seed) three weeks later.
In both games, LHS fell behind early and did its best to storm back before falling in the end. Despite splitting the four games against state-bound opponents, the Lions said they'd welcome the opportunity to face any of the four again.
"I'll play any of those teams again," Potter said. "I expect it to be a crazy tournament and a lot of fun and I can't wait to show everyone what we're made of."
That opportunity will arrive at 3 p.m. Wednesday, when the seventh-seeded Lions tip off the state tourney against Blue Valley.
LHS was flat for most of the first three quarters against the Tigers. The Lions shot just 9 for 32 in the first half and trailed by nine points at the break. What's more, LHS missed its first 14 three-point attempts before Potter finally broke the ice from downtown midway through the fourth. At the time, LHS trailed by 18 points, but Potter's three and a heavy dose of Jackson's infectious energy, inspired a rally that cut the lead to as little as five - 63-58 - with 1:20 to play.
Ultimately, the Lions ran out of time and lost 71-62.
That loss taught the Lions a valuable lesson which they carried with them the rest of the season.
"We can't just play five minutes in the fourth quarter and expect to win," Jackson said after the loss.
Looking back at that game, as well as the other three against their statebound opponents, no doubt will give the Lions a leg up come Wednesday. But Mallory said she's not banking too much on games in the past to prepare for the immediate future.
"I think there are certain things that you have to look at in all of those games," she said. "But I think (state) is a totally different thing. It's on a different scale, and it's going to be a different atmosphere completely."
Copyright 2018 The Lawrence Journal-World. All rights reserved. This material may not be published, broadcast, rewritten or redistributed. We strive to uphold our values for every story published.