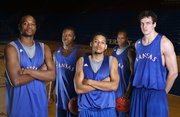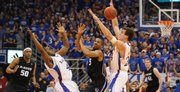 Senior class
¢ Jeremy Case, 6-1, 190
¢ Darnell Jackson, 6-8, 250
¢ Sasha Kaun, 6-11, 250
¢ Russell Robinson, 6-1, 205
¢ Rodrick Stewart, 6-4, 200
Senior class at a glance
Here are some accomplishments of Kansas University's senior class of Jeremy Case, Darnell Jackson, Sasha Kaun, Russell Robinson and Rodrick Stewart:
¢ A 107-23 overall record which averages out to 26.8 wins per season.
¢ Three Big 12 regular-season championships (tie with Oklahoma in 2005, tie with Texas in 2006).
¢ Currently tied with Texas for first in the league race.
¢ Two Big 12 postseason tourney titles (2006 and '07).
¢ Part of KU's 50th conference title, the most in NCAA Division I.
¢ Part of KU's 1,900th all-time victory.
¢ Part of KU's 600th all-time victory in Allen Fieldhouse (earlier this season).
¢ Won 33 games in 2006-07, fourth most wins in school history.
¢ Raced to 20-0 start this season, third best start in school history.
¢ Advanced to Elite Eight of the 2007 NCAA Tournament.
¢ Robinson ranks fifth in career steals (227), ninth in assists (461) and 20th in three-pointers made (87); Kaun ranks eighth in blocked shots (140); Jackson ranks 32nd in career rebounds (543);
Darnell Jackson, who hadn't scripted his Senior Night speech as of midday Sunday, scheduled some serious soul-searching for Sunday night and all day today.
"I'm not going to wing it. It's coming from here, straight from my heart," Jackson, KU's 6-foot-8, 250-pound forward from Midwest City, Okla., said on the eve of the final home game of KU's senior class of Jackson, Jeremy Case, Sasha Kaun, Russell Robinson and Rodrick Stewart.
"I have a lot on my mind," added Jackson, who has been mourning the recent death of his cousin, "(but) I'm not gonna stand up there like Wayne did and talk for two hours. I don't want everybody to fall asleep."
Jackson was jokingly referring to his freshman year, when Wayne Simien's senior speech lasted more than 20 minutes.
Recognizing the late 8 p.m. start of today's home finale against Texas Tech and wanting to add some sanity to the speech-giving, coach Bill Self has put a three- to five-minute limit on the senior speeches.
The players and their parents also will be recognized with the annual shower of flowers immediately following the national anthem.
"Everybody will be tearing up and crying," said Seattle native Stewart, who will be part of an all-senior starting lineup tonight.
"It's going to be great to hear my name called for the last time. I probably won't get any sleep tonight thinking about it," added Stewart, who started seven games earlier in the season with Brandon Rush and Sherron Collins both out due to injuries.
Robinson has started all 29 games this season, Jackson 24 and Kaun five. Case will be making the first start of his KU career.
"I'm not nervous at all," Case said about his starting the game and the speech after the contest.
"I feel a little sad, not too sad. I've been here a long time, and after it's over I'll be ready for the next step," added the McAlester, Okla., native who plans to get into coaching. "I feel I've learned a lot. I've enjoyed my time here. I wouldn't change it for the world."
That's what he'll convey during his speech.
"It will not be long. I don't have a whole lot to say. I am going to thank everybody and tell them how I feel about Kansas basketball."
All the seniors will have immediate family members in town. Two of Robinson's closest buddies from his hometown of Bronx, N.Y., also will be in the Allen Fieldhouse stands. They also attended Saturday's high-energy, 88-74 victory over Kansas State.
"They said it was a life-changing experience for them," Robinson said of a game in which the 16,300 fans rocked the building in helping the Jayhawks enact revenge for a previous loss to the rival Wildcats.
"I will try to keep it (speech) short and sweet," Robinson noted. "The years went by really fast. It seems like a blur. Luckily I took a lot of pictures of my teammates, experiences and memories we enjoyed together."
Kaun - his mom Olga has been in the United States since early January - will be on hand tonight.
She and her son both saw the "Wrath of Kaun" video during Saturday's victory. The video spoofing Star Trek's "Wrath of Khan" plays on the center scoreboard after monster dunks or blocks by the 6-11, 245-pounder out of Tomsk, Russia.
"She thought it was funny but didn't get all the words," Kaun said. "I looked up and saw it. It's definitely fun. We definitely have the best fans in the world. They were a great part of us winning."
The fan support has helped this senior class total 107 victories against 23 losses. The seniors have won three straight regular season Big 12 titles, two straight postseason tourney crowns and are currently tied with Texas atop the league with two games left.
"They've won 82.3 percent of their games. That's a ridiculous amount for any class to do that well," coach Bill Self said of his first recruiting class (Case is a fifth-year senior; Stewart arrived as transfer from USC in 2004-05).
"You always hope guys will pan out to be what you thought. Out of Russell, Darnell, Sasha .. all have equaled and exceeded what I originally had planned for them when we recruited them. I knew they'd be good. I had no idea they'd be as good as they are and represent the university as well as they have. All will graduate in four years and are great ambassadors for the school.
"There were no McDonald's All-Americans," Self added. "These guys came in and gave their heart and soul to this place. It's been a fabulous class. I hope everybody ... our fans, players and coaches need to make sure they go out right on Monday. It won't be easy. We're playing a team in Texas Tech (16-12, 7-7) that is coming in very confident after the way they played against Texas. They controlled that game," he said of the Raiders' 83-80 victory over the Longhorns on Saturday.
Copyright 2018 The Lawrence Journal-World. All rights reserved. This material may not be published, broadcast, rewritten or redistributed. We strive to uphold our values for every story published.