On the street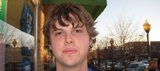 I think they should define what a domestic partner is and have a good length for how long they've been together, maybe a three-year limit.
Leaders at Kansas University are concerned that not offering benefits to domestic partners of faculty and staff may end up costing the university the ability to recruit some of the most talented candidates.
On Monday, the University Senate Executive Committee will receive a report on the possibility of extending benefits to domestic partners. Paul Farran, president-elect of KU's Unclassified Staff Senate and an advocate for the proposal, said several peer institutions already extend benefits to domestic partners.
"It's important, and we need to address it," Farran said. "There are discussions happening about what might be able to happen."
Farran said the Faculty Senate committee on compensation has been examining the issue of domestic partner benefits for about a year and will present the report. The Monday meeting, however, is not expected to produce concrete action.
Maggie Childs, a professor of east Asian studies and a member of the Lawrence gay community, said offering benefits to domestic partners is crucial.
"KU has lost faculty over this issue," Childs said. "I know that for a fact. I know a couple right now that is struggling with this."
Childs said this is the first she's heard of an organized effort to examine domestic partner benefits, "but I know a lot of people who have discussed it over lunch."
KU Provost Richard Lariviere has encouraged the committee to examine the issue in the "context of promoting fairness to all employees and advancing KU's competitiveness in recruiting and retaining faculty and staff," according to the minutes of a previous meeting.
"The provost is encouraging continuing work, but it would be premature to discuss it at this time," KU spokeswoman Jill Jess said.
Michigan State, Ohio State, Indiana, Purdue, Iowa State and the University of Iowa, among others, offer domestic partnership benefits. Farran said 200 of the Fortune 500 companies also offer benefits to employees' domestic partners.
While there is no specific proposal from KU, and no timeline to create one, the plans in place at other schools and companies do vary. In some instances, domestic partner benefits are extended to same-sex as well as unmarried heterosexual couples, if they choose.
"It's very economically feasible," Farran said. "In most cases, it increases the costs of health insurance only 1 to 2 percent."
Even if KU decides that domestic partner benefits were important, there's nothing that can be done without support in Topeka. Jess said KU's benefit policy is dictated by the state, which does not allow institutions to grant benefits to domestic partners.
The University Senate Executive committee meets at 3:30 Monday afternoon in the Regents Room, Strong Hall.
Copyright 2018 The Lawrence Journal-World. All rights reserved. This material may not be published, broadcast, rewritten or redistributed. We strive to uphold our values for every story published.