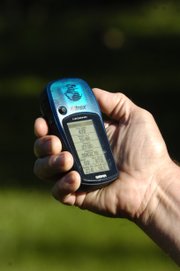 Not all who wander are lost; they just might be on a hunt for hidden treasure.
This summer, the Kansas Department of Wildlife and Parks invites people to explore state parks while joining a popular and growing national hobby, an outdoor treasure-hunt game called geocaching.
For the first time, the department is hosting a Geocaching State Park Contest, and challenging participants to find two caches in 29 state parks.
"It's been going really good," said Rick Cleveland, Lovewell park manager and chairman of the contest committee.
"We've had a lot of positive comments and had a lot of people visit our parks who had never visited before. I didn't realize how big geocaching was on a national basis."
To geocache, owning or using a global positioning device is a must. People find coordinates for the first cache at a state park Web site, www.kdwp.state.ks.us.
The caches in the state contest are old metal ammunition boxes. Coordinates are located in the cache to find the second one. Once a player finds both, he or she takes a cache site certificate back to the state park office, and will receive a site-specific geocaching pen. Often geocaching includes leaving behind a token or trinket of some kind and signing a log book. People take what's in the box and leave something behind.
"It's like an Easter egg hunt for adults," said Jay Kennedy, of Lawrence, an urgent care doctor in Topeka and longtime geocache hunter.
Kennedy and his son, Nick, 6, a Cub Scout, found the first cache at Clinton State Park two weeks ago. They strolled through a campground into the woods, following the signals on a GPS.
For the past three years the father and son team have scoured areas for caches like the ammo box, leaving behind fast-food children's meal toys. Jay Kennedy's Army background and undergraduate geography degree have fueled his passion for a cache chase.
Kennedy and his son also said they just liked "getting out in the woods."
"With my job as an urgent care doctor, a lot of times you get kind of trapped in a building all day and it just feels good to get out and get in the sun and the wind and, yes, you get exposed to ticks," he said.
When the discovery was made it was as though it was second nature to them. Nick helped his dad pull the ammo box out, smiling all the way, then opened it up and handed his dad a log book and a pencil, then patiently waited, checking out the surroundings as well. When they returned to their car they checked for ticks, drank some water and left thinking about the second cache on the other side of the park.
At Clinton State Park, Bruce Husman, natural resource officer and someone new to the hobby, said he had seen people from their 20s to 50s out on the hunt.
"The majority of them love it," he said. "They are kind of different people, they love getting out there. : They love the adventure."
Kennedy has geocached for years, first learning about it while exploring caves. Now he incorporates hunts on family trips. With the state parks on board, Kennedy said he was excited to see the hobby grow in popularity and accessibility.
"It certainly increases the appreciation for the outdoors. It's a great adventure game, and a lot of people have to ask permission before you put a cache out and the fact the state park is encouraging this is very rewarding," Kennedy said. "I see it as a springboard to us getting more caches out."
Cleveland is hopeful for the same thing.
"I think we're just touching the tip of the iceberg as far as what this could become," he said.
The department is communicating with GPS companies to buy user-friendly GPS devices to loan to people at parks during a geocache hunt.
"It's just a great outdoor experience," Cleveland said. "I took the GPS and went for a walk looking for it (the caches at his park) and I saw deer, quail, fish, bass, through the campground. It's like taking a hike but you have a mission to do it."
Copyright 2018 The Lawrence Journal-World. All rights reserved. This material may not be published, broadcast, rewritten or redistributed. We strive to uphold our values for every story published.