It's easy to get started in geocaching.
All it takes is a GPS receiver and a set of coordinates. A new receiver can be purchased for less than $100; coordinates are free.
The motherlode of geocache information is at geocaching.com, where I found 1,079 geocaches within 100 miles of my house, including more than 80 within about 20 miles.
Each cache has a description, a map, a log and coordinates.
Cachers enter the coordinates in their GPS unit, and it points the way. Some caches have additional hints; some are encrypted, adding a little challenge.
There are different sizes and kinds of caches - traditional, multicaches (one leads to another), virtual (caches that end in a location, not an actual cache), event and mystery caches.
Each cache has a ranking, on a scale of 1-5, describing difficulty and terrain.
And there are strict rules about where caches may be placed - on public land, for instance.
"And it has to be safe," added geocacher Greg Hanson. "It can't be dangerous. The last thing they want is someone dying."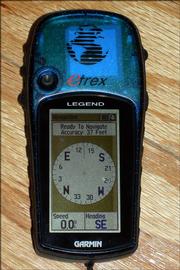 What is a cache?
It depends on size, but most traditional caches contain trinkets of some sort - gems, toys, key rings - and a log book finders are supposed to sign. Cachers are encouraged to take one treasure and leave another. Then they return to geocaching.com to sign the electronic log book.
Because geocaching encourages young participants, caches are prohibited from containing inappropriate rewards, like weapons, alcohol or drugs.
Lawrence now requires geocaches in the city to be registered. The Lawrence Parks and Recreation Department administers the permits.
Chris Coffman, who helped set up the permit system, thought it necessary.
"I had read a lot of horror stories about caches being found and thrown away and people getting into trouble when they were hiding caches or when they were searching for caches," he said. "I think it only makes sense to work in conjunction with those that manage the public land that the caches are hidden in. At the very least, it might keep a cache from getting thrown away when a maintenance man : finds it."
Hanson isn't so sure.
"As a geocacher, you think, 'They don't need to know this stuff,'" he said. "But they want them registered so you're not tromping through all different sorts of Lawrence. They don't want it to be where it's unsafe, and I can understand that."
Geocaching is said to have started in 2000 and in six years has developed quite a following.
Hanson can understand why.
"Basically, it's just the enjoyment of the outdoors," Hanson said. "My 13-year-old son, Clint, and I can do it. They're great walks and hikes. You discover a part of the community you didn't know about."
Hanson has found caches in and around Lawrence, on mountain peaks in Colorado and on the way to a wine festival in Hermann, Mo.
"Anywhere you're going, you can take your GPS and print a few caches out and find 'em on your way," he said. "I haven't had as much time to do it lately, but it can become an addiction. You want to get as many as you can."
"It's just a great sport for every type of person - single, married, children. And it's great for dates. If you go to a movie, you sit there and don't talk. You do this, you go to dinner, then go outside. It's outdoors, you talk, it's exercise. It gets my son out of the house. It's just fun to do."
Copyright 2018 The Lawrence Journal-World. All rights reserved. This material may not be published, broadcast, rewritten or redistributed. We strive to uphold our values for every story published.