Photo Gallery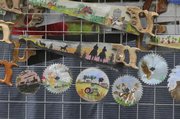 Territorial Days
Past Event
When: Saturday, June 28, 2008, 7 a.m.
Where: (One-off place), Lawrence
-->
-->
Georgia Perez was 3 years old when she was first introduced to the craft of beading by her grandmother.
"I promised my grandmother I'd keep beadwork going," the Westmoreland resident said. "I love going out to demonstrations and answering questions."
Perez set up her display of pine needle boxes, wampum belts, beaded buckles and earrings Saturday near Lecompton's Constitution Hall, where several artists and craftsmen gave living history demonstrations.
The activities were part of the Historic Lecompton Territorial Days celebration. The event recognizes Lecompton's place in state and national history. The town was the capital of Kansas Territory from 1855 to 1861.
Perez wore a handmade leather dress with fringe and beadwork borrowed from the traditional clothing of the Blackfoot and Northern Native American tribes.
Her intricate work takes time. One pine needle basket can take three hours to make. Perez sells such baskets for about $10.
"When I sell my beadwork, quite often you're making a dollar an hour," she said with a laugh.
But it's not money that drives her.
"This is the love of my life," said Perez, who works as an accountant. "When I retire, what I want to do full time is just work with my beads and my leather."
Toni Soetaert, a trades demonstrator from Independence, Mo., sat nearby, displaying her skills at weaving lace by hand. Like beading, lace weaving is intricate work. Soetaert pointed to lace decorating her pioneer period costume. Each two-inch strip required more than 500 steps, she said.
Soetaert learned the skill during a period when she was laid up with a back injury.
"When I picked up a bobbin, it was like an affinity that I'd never had with any other craft I'd done," she said. "No matter how good you get at it, there's always different kinds of lace."
Soetaert listed off some of the many styles of lace including Chantilly, Bedfordshire, and Flanders.
"You can never learn everything," she said. "It's the most amazing craft. It really is."
Copyright 2018 The Lawrence Journal-World. All rights reserved. This material may not be published, broadcast, rewritten or redistributed. We strive to uphold our values for every story published.