Photo Gallery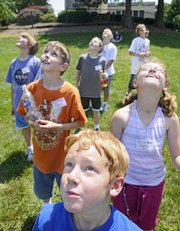 Space Odyssey camp
On the street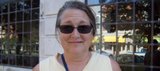 A religious camp called Rural Bible Crusade where we got to memorize 300 Bible verses, although you could do more if you wanted.
Three. Two. One. Blast off.
They may not be working for NASA, but about 20 children at Kansas University's Natural History Museum's summer camp got a chance to launch a rocket Wednesday.
The rockets were made of 20-ounce soda bottles and filled with water and air from a bicycle pump. Some blasted into the air boasting KU's crimson-and-blue colors, which seemed appropriate since the one-day camp called Space Odyssey took place on a grassy hill between the Campanile and Memorial Stadium.
"It's very space-oriented," Dawn Kirchner, museum educator, said. "We take a look at the space spectra, impact craters. We make comets during class."
Once in the field, the children, ages 8-11, focused on getting their rockets as high and as far as possible.
"It was pretty cool," said 10-year-old Lawrence resident Caden Henry. "I think it didn't go as well because one of the fins fell off."
The children seemed to agree that the hands-on lesson was a neat way to learn about science.
"I think it's a great way to learn about stuff and it's really fun," Hannah Lee, 11, Lawrence, said.
Eight-year-old Kayleigh Boos, of McLouth, said, "I just learned a whole bunch of stuff and they were all very cool, like how to tell different kinds of stars from colors."
Kirchner said there was a lot of experimentation. She said the students used the first round of take-offs to identify the right ratio of water and air. Sometimes, the students were tempted to fill the whole bottle with water, but they quickly learned it was too heavy to fly in the air.
Despite the trials and errors of the camp, the students seemed to have a blast.
"I tipped the thing (launching pad) over because I pulled too hard," said 8-year old Cooper Fine, of Lenexa. "It was awesome."
Copyright 2018 The Lawrence Journal-World. All rights reserved. This material may not be published, broadcast, rewritten or redistributed. We strive to uphold our values for every story published.