Photo Gallery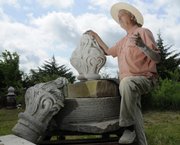 Keith Middlemas courthouse stone carver
Stone carver Keith Middlemas, Oskaloosa, is sculpting four new finials that will replace deteriorating ones on the clock tower at the Douglas County Courthouse. The project is part of a multi-year courthouse restoration effort on the 103-year-old building that began in late 2007. Lawrence artist Laura Ramberg is also working on stone pieces for the courthouse.
Keith Middlemas starts by fashioning a nuclear cooling tower, then turns the top of it into a section of an orange.
At least that's how the 61-year-old stone carver describes some of the early steps he takes in making a new finial for the roof of the Douglas County Courthouse.
"It's pretty entertaining," he said.
And that's a phrase Middlemas uses a lot in describing just about any of his projects.
"I can't sing or dance but I know stone," he said.
Middlemas is one of two stone carvers working to restore some of the weather-damaged ornate pieces on the outside of the 103-year-old courthouse at 1100 Mass. Laura Ramberg is the other.
"It's difficult but it's a lot of fun," said Ramberg, who has been working on three pieces for the west side the courthouse.
The work of the stone carvers is only one part of the $1.13 million, first phase of a multiyear courthouse restoration effort. The first phase should be completed in the fall, said Al Hanks, project manager for Restoration & Waterproofing Contractors Inc., of Kansas City, Kan., the primary contractor. The county will continue with subsequent phases as it has the money to do them.
Middlemas has worked on courthouse projects in the past, including replacing the stone steps at the west entrance eight years ago. He was one of the people who alerted the county about how much work was needed to preserve the building, County Administrator Craig Weinaug said. And it is why he was brought in as a subcontractor, Hanks said.
"He knows that building backward and forward," Hanks said.
Middlemas saw that the finials at the four corners of the clock tower were in bad shape. A closer examination showed that a severe storm might cause half of one finial to plummet to the ground by the west entrance. The finials were taken down three years ago.
"We had a really great time getting them down, but it was a high-wire act all the way" said Middlemas, who assisted a crane company that day.
A combo platter
Middlemas' workshop is in a secluded rural area in Jefferson County. Half of the shop is on a large concrete patio open on three sides and covered by a high roof. Tools, scaffolding and other equipment are stacked inside and outside the structure. There are a few handwritten notes written upon a large metal door. Some are about work projects. One note, however, simply states: "2,000 miles down to edge of molten core."
"I listen to NPR and when I hear something interesting I write it down," Middlemas said. "I am completely at peace out here."
Each courthouse finial is made from a 300-pound piece of cottonwood limestone brought in from J.T. Lardner Cut Stone in Topeka. The Lardner quarry is the same one where the original courthouse limestone was obtained.
When Middlemas cuts the designs into the stone he uses his own patterns, not necessarily the one found on the original.
"My M.O. is to design something that is fairly difficult," he said. "It's hard to do but easy to look at. That's my combo platter."
Two finials are completed. Work on the first one took more than 40 hours.
"It took quite awhile to figure out the geometry on the first one," he said.
Once the finials are put in place 150 feet above ground, only birds will see the detailed patterns. That's why one of the finials might be put on display before they are installed later this year.
"I think the public would like to see them," project manager Hanks said.
Working for the future
Ramberg's workshop is in a rural area north of Lawrence. She has completed a decorative, floral corner piece that was installed south of the courthouse's west balcony. She is now working on two pieces of a stone water board.
The corner piece took 135 hours to complete, Ramberg said. She usually works five or six hours a day.
"I use pneumatic tools but it is still pretty hard on your body," Ramberg said.
"I'm very honored to be doing this," she said. "I feel like being an artist is a service to the community."
Ramberg enjoys thinking that her work will be seen by the public for decades to come.
"I have a grandson who is 7, and he'll be around a lot longer than I am, hopefully," she said. "That stuff will be up there another hundred years and he can point it out to his kids and say, 'my grandmother made that.'
"For me, that's sweet."
Copyright 2017 The Lawrence Journal-World. All rights reserved. This material may not be published, broadcast, rewritten or redistributed. We strive to uphold our values for every story published.