Worried that 100-pound pieces of stone might fall onto passersby, workers have started removing finials from the Douglas County Courthouse roof.
Four carved "cones" atop the clocktower at the courthouse, 11th and Massachusetts streets, will be replaced. The 350-pound cracking, crumbling finials on the 1904 building were becoming hazardous, county officials said.
"Some of them have split right down the middle and there's a danger," stone worker Keith Middlemas said. "Already certain pieces have fallen off there. It looked like a 100-pound piece could fall 80 feet right in front of the front door."
Karl Ramberg, another stone worker, said rain had eaten away at the porous limestone. Cold temperatures also contribute to deterioration as water in the stone freezes and expands, slowly splitting the pillars.
"We were going to go up there and take measurements, but the engineers went up there and agreed with us that they were safety hazards," Ramberg said.
Of the four finials, two were removed Thursday. The other two will be taken off today.
Middlemas, of rural Oskaloosa, will carve the new finials, which should be on the roof by spring.
"The thing I want people to understand is that we're not cutting them off permanently. They will be replaced," County Administrator Craig Weinaug said.
Like the old ones, the new finials will have a botanical design.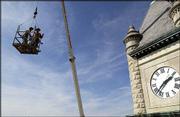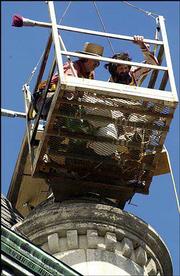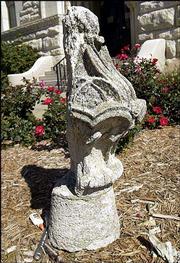 Copyright 2018 The Lawrence Journal-World. All rights reserved. This material may not be published, broadcast, rewritten or redistributed. We strive to uphold our values for every story published.