Douglas County officials are revamping their historic office building from the inside out.
After installing fire-suppression sprinklers, replacing drapes and overhauling offices earlier this year, officials are turning their attention to the aging exterior of the Douglas County Courthouse, 1100 Mass.
Work starts Thursday or Friday to clean the hundreds of limestone blocks on the building that has been home to the county's growing operations for nearly a century.
"It's a historic building, it's a beautiful building, and we're very proud of it," said Bill Bell, the county's director of buildings and grounds. "And we want to keep it that way."
Commercial Waterproofing Inc., of Kansas City, Mo., will be paid $36,995 for the work, which also will include cleansing and sealing the precast concrete exterior of the Judicial and Law Enforcement Center next door.
The products involved -- perhaps unimaginable when the courthouse opened in 1905 -- will allow the building's stone to be cleaned without sandblasting, a process that was used once previously on the courthouse and left its exterior susceptible to moisture, Bell said.
The sealant should help ensure that the priceless structure retains its place at the center of county government for another century, and perhaps beyond.
"This place was built for $68,000," Bell said. "You couldn't put a roof on it today for $68,000."
The building's wooden windows also will be painted and cleaned. Hardister Painting and Decorating Service, of Lawrence, landed that job with a low bid of $22,445.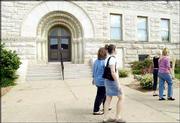 Bell said the county probably would hire a structural engineer -- one with experience working on courthouses and other historic buildings -- to examine some of the building's stone details, which have eroded or been damaged.
Bell said any replacement stones that require details probably would be produced by Keith Middlemas, a Lawrence stone mason. A few years ago, Middlemas replaced the stone arch and several steps at the courthouse's entrance off Massachusetts Street.
"He's done a masterful job," Bell said. "You can't even tell."
Bell said the preservation work should be completed by the end of October.
Excavation for the Romanesque-style Douglas County Courthouse began in March 1903. Actual construction started about April 1 and the cornerstone was laid July 4, 1903, during a ceremony conducted by the Masonic orders.Architect J.G. Haskell was the overall supervisor, and Adam Oliver, a masonry contractor, was hired as the on-site superintendent at a salary of $60 per month.No evidence has been found that the courthouse was ever officially dedicated. In January 1905, county officers began to move in without fanfare.The structure was added to the National Register of Historic Places in 1975.-- Source: Douglas County
Copyright 2018 The Lawrence Journal-World. All rights reserved. This material may not be published, broadcast, rewritten or redistributed. We strive to uphold our values for every story published.