The Douglas County Courthouse is getting a minor facelift.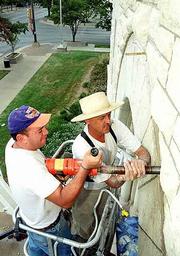 Area stonemason Keith Middlemas is repairing part of the steps and fixing the archway above the door on the building's west side.
Through the years, Middlemas said, part of the decorative arch has been eroded by the weather. The courthouse was built in 1903.
"The arch was designed to protrude over the door, and all the sleet, snow and rain that's hitting the arch either has to go around it or through it," he said.
Middlemas said he and a friend, Charlie Miller, removed several inches of the cottonwood limestone and will replace it with newly carved stone. This design motif is called egg-and-dart, which is a repeated pattern of spheres and arrows, Middlemas said.
"It's easy to cut out of the limestone," he said. "The carving itself is pretty complicated."
Middlemas said cottonwood limestone has been used at Allen Fieldhouse, and it accents a new building in the 600 block of Massachusetts Street that will be the home of Eddie Bauer and The Gap.
"It's the darling of the state of Kansas and the architects of Kansas," he said.
County Administrator Craig Weinaug said county commissioners hired Middlemas for the $16,000 project because they wanted to preserve the building's stonework.
"The county courthouse in my mind is one of the outstanding architectural high points of Lawrence," he said. "We, as county officials, should take our responsibility to maintain it so it's around for another 100 years."
Weinaug said the county may see whether there is some kind of treatment that can be put on the building to prevent erosion.
Middlemas, who has done stonework in Lawrence since 1976, said he plans to finish the courthouse project next week. He will attach the new limestone to the arch with mortar and threaded stainless steel pins, which will improve the bond of the stone to the courthouse.
Copyright 2018 The Lawrence Journal-World. All rights reserved. This material may not be published, broadcast, rewritten or redistributed. We strive to uphold our values for every story published.